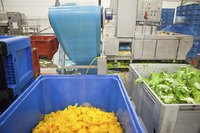 The International Standards Organization develops quality management guidelines for companies around the world. Certification is not mandatory, but it can be a good way to show potential customers and business partners that your company follows the appropriate safety and efficiency protocols for your industry.
Types of Certification
ISO develops specialized standards for a variety of industries, along with basic management standards that apply to almost any type of business. For example, ISO 9000 covers general quality management principles and ISO 31000 covers risk management principles that will benefit managers regardless of their industry. Industry-specific standards include ISO 22000 for food management, ISO 27001 for information security and ISO 14906 for electronic fee collection.
Certification Process
ISO does not administer any certification testing itself. Instead, it provides standards for external certification agencies to follow. When choosing a source for your certification, make sure the certifying agency is accredited and follows the latest standards from ISO's Committee on Conformity Assessment.
ISO Audits
Certain standards, such as ISO 9000 and ISU 14001, require an audit of your company's internal practices. The audit is typically performed by the same agency you have chosen for your certification, but some agencies prefer to hire external auditors to handle this aspect of the certification process.