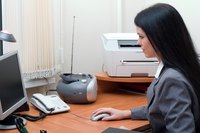 An accounting information system is a design for a way to handle a company's accounting process. Accounting is simply concepts, techniques and methods to account for financial transactions of a business. It is designed to show an accurate picture of the company's financial status. Good accounting information system principles are vital for a business's accounting process.
GAAP
As part of an accounting information system, generally accepted accounting principles (GAAP) are followed. These principles outline how accounting is handled properly in a business. Principles such as the matching principle and the consistency principle are two examples of regulations GAAP sets forth. These principles are designed to force businesses to record their transactions in a way that will not mislead anyone.
Accounting Equation
The first principle in an accounting information system is the accounting equation. The equation states that assets equal liabilities plus owner's equity. It is imperative that accounting records stay in balance according to this equation at all times.
Debits and Credits
The next important principle is the subject of debits and credits. In accounting, all accounts are set up in one of five categories: assets, liabilities, equity, revenue and expenses. Each type of account has either a debit or credit balance. Whenever a transaction happens, accounts are debited or credited to account for it. Debits and credits always are equal to each other.
Transactions
An accounting information system follows the normal accounting cycle process. The first step in the cycle is recording transactions. As stated, every time a transaction occurs, it is posted in the company's books as debits and credits. This is all tracked in the company's general ledger. The general ledger is a listing of all accounts, all postings to the accounts, and all account balances.
Financial Statements
Another important part of an accounting information system is the reporting of financial statements. Companies measure their performance through financial statements. Financial statements are crucial in evaluating the company's financial status and in budgeting and projecting for future needs. Financial statements are generated monthly and yearly. They are used for comparison purposes and are read by stakeholders of the company, or anyone else with any interest in the business.