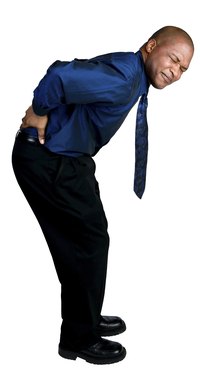 Tailbone pain is called coccydynia or coccygodynia. The tailbone is your coccyx. When you have injured your tailbone or it has been pushed into an awkward angle, this can cause difficulty sleeping, sacroiliac pain, constipation and even headaches. The pain from a tailbone injury can also spread into the lower back and hips.
Effects
Coccyx injuries can result in infertility, decreased libido, difficulty maintaining an erection and problems having an orgasm, according to ClearPassage.com. A tailbone that is in a forward position can cause pain with deep penetration during sex.
Identification
The tailbone or the coccyx is the very last bone of the vertebral column. It consists of three to five fused vertebrae. These connect with a part of the pelvis called the sacrum. Tailbone pain often radiates into the perineal parts of the body, which include the genital area between the anus and vulva for a woman and between the anus and the scrotum for a man. The lower sacral area is also affected. The sacra is a triangular bone that consists of five fused vertebrae and forms the posterior, or back section, of the pelvis.
Types
If you are suffering from coccygodynia, you are apt to experience numbness in the lower part of your spine and in your hip. You may also have pain when rising from a seated position or while seated. There may be a burning sensation in the rectal area and pain when standing or lying down. The pain can crop up during menstruation, sexual intercourse and while having a bowel movement. Your back may hurt because you are unintentionally sitting in awkward positions to relieve the pain, which just creates another pain. Sometimes the entire buttock area hurts, according to CaringMedical.com.
Considerations
When this type of pain is the result of trauma, other body parts, including the hips or legs, may be damaged as well, and it is hard to determine where the pain is actually coming from. Your doctor may administer an injection of an anesthetic into the coccyx area to determine how much of the pain is coming from the coccyx and how much is coming from your hips or legs.
Hypersensitivity
When you are experiencing pain in one part of your body, it can lead to hypersensitivity in other areas of your body because the nerve fibers crosstalk. The entire buttocks and hip area can become hypersensitive because of this effect. Your hips may hurt while you are lying down because of this.
Treatment
Treatment for tailbone and hip pain may include sitz baths, massage, muscle relaxants, local anesthetic creams, counseling, anti-depressants, biofeedback and electrical stimulation. Some of these treatments may work while some won't; most are just temporary solutions. Corticosteroid injections, cortisone shots and anti-inflammatory drugs are sometimes recommended for tailbone pain, but there are drawbacks to using these methods as these shots and drugs may actually inhibit the soft tissue's healing process.