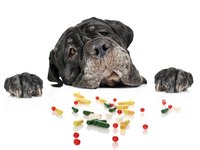 Naproxen is a type of nonsteroidal anti-inflammatory drug that is used to provide pain relief for people. Unfortunately, although this drug is safe for humans, it can be toxic to your pup if he ingests it. Bring your dog to the vet immediately if he swallows any of your naproxen pills.
Why Naproxen is Toxic to Dogs
While some NSAIDs are safe for dogs, naproxen isn't one of them. Naproxen is sold under several brand names including Aleve, Anaprox, Midol, Naprelan and Naprosyn. You'll find this medication available over the counter and by prescription. This NSAID works by reducing the amount of COX-2, a type of enzyme, in the body. This enzyme helps the body produce substances known as prostaglandins, which contribute to pain, inflammation and fever. Unfortunately, prostaglandins also perform important functions in your dog's body; naproxen reduces them too much in canines. Naproxen can cause liver failure, kidney failure or dangerous gastrointestinal issues in dogs.
Signs of Naproxen Toxicity
Signs of poisoning include vomiting, depression, seizures, diarrhea, tarry stool, pain in the stomach or a lack of appetite. Your pup may feel very sick so he won't be as active as usual. If your dog has eaten as little as one 220 mg tablet of naproxen, he could experience serious side effects or even death, warns the Pet Poison Helpline.
Without enough prostaglandins in his body, your pooch won't have enough blood flowing to his kidneys, which will cause sudden kidney failure. Signs of kidney failure may include changes in how much water your dog drinks or how much he urinates, along with pale gums. Because naproxen can cause gastrointestinal ulcers, these could lead to perforations in the intestines, toxic sepsis and death.
Treatment for Naproxen Toxicity
While there is no antidote for naproxen poisoning in dogs, your vet can provide supportive care for your pooch to reduce his symptoms and prevent permanent damage to his vital organs or even death.
If your pup has recently ingested the naproxen, your vet may induce vomiting to get as much of it out of his system as she can.
She may give your dog liquid-activated charcoal to coat his gastrointestinal tract and prevent the naproxen from being absorbed by the body.
In severe cases of gastrointestinal bleeding, your dog may require a blood transfusion.
Your vet also will provide intravenous fluids and medications to heal any damage the naproxen has done to his intestinal tract.
Prognosis and Prevention
With immediate veterinary care, your dog should make a full recovery from naproxen poisoning. Naproxen is quickly absorbed by the body, so it can take as little as an hour after ingestion for symptoms to appear. The quicker you get your dog treated by the vet, the better his prognosis will be. Never give any medication to your dog without consulting with your vet. If your dog is in pain, your vet can prescribe a dog-safe NSAID for him to take. Keep all human medication out of the reach of your dog, preferably in a secured medicine cabinet. Take your pills in a separate room from him so he doesn't try to gobble one up by accident.