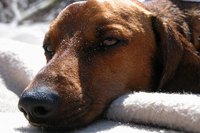 Canine polyarthritis refers to inflammation in dogs that can affect multiple joints. It is often immune-mediated, or related to the immune system. Polyarthritis doesn't necessarily cause lameness or an unsteady gait in a dog. Rather, the animal may act depressed and become feverish and disinterested in its food. There are four kinds of canine polyarthritis with noninfectious causes. Accurate diagnosis allows administration of appropriate treatment.
Diagnosis
Unless there is advanced disease, an X-ray image usually reveals bones that look normal. The presence of arthritic changes may actually indicate degenerative joint disease rather than polyarthritis.
A high concentration of white blood cells (leukocytes) in joint fluid examined under a microscope, especially neutrophils, indicates joint inflammation. Subsequent joint fluid examination will determine if the reaction is due to infection or the immune system. In a sense, polyarthritis is identified by ruling out inflammation from pathogens such as bacteria and fungal infections.
Immune-Mediated Polyarthritis
Immune reaction to the immune challenge from a dog's vaccination, whether the first or booster shots, can cause joint lining inflammation and increased leukocytes in the joint fluid, leading to swelling and pain. While it usually resolves in a week, prolonged, severe symptoms need treatment.
A veterinarian would prescribe a broad-spectrum antibiotic such as doxycycline and analgesics for pain relief. Prednisone or another corticosteroid is given in high doses for two weeks as immunosuppressive therapy. This is reduced gradually and maintenance therapy, possibly lifelong, is important to prevent recurrence.
Idiopathic Polyarthritis
Idiopathic polyarthritis, the most prevalent form of polyarthritis, is the one for which no cause has been identified. Exclusion of all other forms of polyarthritis enables its diagnosis. Periodic fevers, lameness and joint stiffness characteristic of the condition afflict dogs that are two to five years old.
Analgesics such as meloxicam and carprofen treat the pain, while high doses of corticosteroid prednisone manage the condition. The dose tapers following resolution of clinical symptoms, and joint fluid is evaluated to determine the dissipation of inflammation. Doxycycline counteracts the possible presence of bacteria. Some dogs may need lifelong maintenance therapy.
Systemic Lupus Erythematosus (SLE)
With lupus, the dog's immune system produces atypical antibodies, identified with an anti-nuclear antibody test, which can destroy joint tissue, and tissue and cells in the skin, nerves, eyes, kidneys, platelets and erythrocytes.
An immunosuppressive corticosteroid such as prednisone medicates the condition. Unlike the two conditions described earlier, antibiotics and analgesics do not feature in the treatment of lupus-induced canine arthritis. Rather, another immunosuppressive medication like cyclophosphamide, azathioprine or cyclosporine is used. Continual medication helps a dog live with the incurable condition, but it may be more susceptible to illnesses due to immune suppression.
Rheumatoid Arthritis
The only erosive form of polyarthritis, the rare condition causes articular cartilage pitting and can lead to joint deformity. It usually affects toy dogs in middle age or older. Rheumatoid antibodies in the blood or synovial membrane biopsy enable diagnosis.
Immunosuppressants (prednisone), nonsteroidal anti-inflammatories (meloxicam) and gold salts (sodium aurothiomalate/aurothioglucose) treat the condition. A second immunosuppressant (azathioprine/cyclophosphamide) is used, but cyclophosphamide can cause serious side effects with persistent use. Examination of the dog and its synovial fluid should follow up a month's treatment. Most dogs with rheumatoid arthritis face deteriorating health.