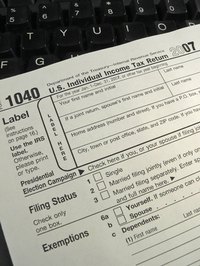 Depreciation and amortization are similar accounting charges that apply in different circumstances. In taxation, depreciation and amortization are both a method of recovering--by deducting--capital costs over a fixed period of time. Depreciation is used for tangible assets, such as property and machinery. Amortization is used for intangible assets, such as patents and research. Both deductions are limited to business use (which includes property investment). Another meaning of amortization is the paying off of debt, such as a mortgage, in regular installments over a set term.
Depreciation
Buildings, machinery, furniture, equipment and most other tangible property used in a business, including passive real estate investments, can be depreciated. Capital improvements--that is, improvements to an asset that add to its value--can also be depreciated. As of 2010, there are only two methods of depreciation--the declining balance method and the straight line method. In the straight line method, the cost of the improvement is divided by the useful life term. For instance, a building with an adjusted basis of $300,000 and a useful life of 27.5 years is depreciated at a rate of $10,909 a year. That $10,909 can be subtracted every year from the income the property yields and can be carried over to future years if it cannot all be used in the year it is claimed. In the declining balance method, initial depreciation is accelerated. The rates for the various useful life classes are provided by the IRS. Different rules apply to property purchased or put into service after 1986.
Amortization of Intangible Assets
Intangible assets include the costs of starting a business (exclusive of the cost of buying tangible assets such as equipment), research and development, patents and trademarks, and obtaining a lease (but not the monthly rent). Goodwill is also an intangible asset. This is the value of a business based on expected customer patronage due to its name and/or reputation. The rules for amortization are complex. For instance, in some cases research is amortized; in others, it is fully deductible in the year of expense; in others still, it is capitalized--that is, it becomes part of the business basis or value. The amortization rules also change frequently and are dependent on what year the cost was incurred or paid. Amortization occurs in the straight line method. The term over which an intangible asset is amortized is based on its class. The cost of obtaining a lease, for instance, is amortized over the term of the lease itself.
Amortization of Debt
When you take out a mortgage to buy a house, the loan must be repaid, usually in monthly payments, over some term--usually 15 or 30 years. How much you pay each month depends upon the interest rate, the loan term and whether the loan is for a fixed rate (the interest rate does not change), adjustable rate (the interest rate changes monthly, quarterly, semi-annually, etc.) or some combination of the two. Most loans amortize down to a zero balance; others are reduced until the loan term expires, and you are left with making one big remaining--or balloon--balance. For example, if you take out a $200,000 mortgage with a fixed rate loan of 6 percent over a term of 30 years, you will make payments of $1199.10 every month for 30 years at which time your loan will be "fully amortized"-- or paid off. Handheld or online mortgage calculators can tell you what monthly payments will be with various loan balances, terms and interest rates.
Regulation
Depreciation and amortization used in connection with business deductions are regulated by the IRS. Amortization of loans is partially regulated by banking laws but is largely determined by the banks and other mortgage lenders themselves. Details between lenders--even for the same kind of loan--can vary. For this reason, it is very important to see a written description of the loan and an amortization table before making a loan commitment.
Benefits
Depreciation and amortization of business expenses mirror good accounting practices: they provide for the long-term planning for large expenses. It is a benefit to the business taxpayer because it reduces his tax liability during years of ownership. Amortization of debt, especially mortgage debt, expands the pool of home buyers. It allows home buyers to purchase a home with a down payment and payment plan instead of requiring the full purchase amount up front.