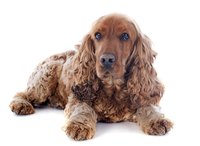 Immune disorders and flea allergy dermatitis are just a couple examples of the many medical conditions that can cause excessive itching in dogs. If you notice your poor pooch scratching, biting or licking himself immoderately, then it's time to take him to the veterinarian for an in-depth checkup.
Pruritus and Causes
The term "pruritus" is medical-speak for itchiness. Itchiness is a common symptom of many kinds of ailments in dogs. Pruritus isn't a medical condition in and of itself, but rather a telling symptom. Allergies, infections and parasites are the leading factors behind itching in canines. Dogs often are itchy due to food allergies or seasonal allergies. Many dogs experience itching when they have secondary yeast or bacterial infections. Other possible causes of doggy itching include autoimmune skin diseases, lymphoma, hookworms, tick bites, hornet stings, wasp stings, bee stings and tumors. Itching can also be due to something as simple as overly dry skin, too.
Signs of Itchiness
If you observe signs of itchiness in your dog, schedule an appointment with the veterinarian. If your pet is suffering from pruritus, he might display conspicuous symptoms such as inordinate scratching, biting, licking, chewing, loss of hair, skin inflammation, red skin, persistent foot licking and skin injury. He might scratch his entire body. He might, on the other hand, only scratch a specific section of his body.
Vets often assess dogs with itching problems by conducting physical examinations, evaluating fungal cultures of their hair, retrieving skin scrapings and performing allergy tests. Fungal cultures can be effective for eliminating the possibilities of parasites such as mange mites. Skin scrapings, on the other hand, can be effective for checking for ringworm. Once your vet discovers what exactly is responsible for your pet's itching, she'll treat it accordingly. If the culprit is food allergies, for example, diet changes might be necessary. If your dog turns out to be allergic to mold or pollen, allergy shots might be helpful.
Itchiness Management
If your pooch is dealing with intense itching, your veterinarian might be able to suggest effective ways of minimizing the discomfort beyond just treating the root cause. Corticosteroids, calming shampoos, moisturizing colloidal oatmeal baths, fatty acid supplements and antihistamines are several examples of things that can help decrease itching in canines. Antihistamines are frequently employed to reduce itching in dogs, but should only be administered under your vet's supervision. Essential fatty acids are commonly employed in conjunction with steroids and antihistamines. This is because they can often make antihistamines work better. Essential fatty acids can also sometimes enable dogs to take lesser amounts of steroids. Vets frequently prescribe glucocorticoids to dogs who are suffering from itching. These are types of anti-inflammatory steroids.
Vulnerable Dogs
Pruritus can appear in all dogs regardless of breed. The same thing goes for skin allergies. Despite that, some purebred canines are associated with skin problems that are related to their family backgrounds. Retrievers, West Highland white terriers, French poodles and cocker spaniels are all specific types of dogs that frequently experience skin disorders and resulting uncomfortable itching problems.