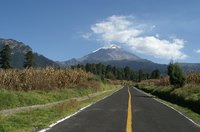 Located southeast of Mexico City, Popocatepetl is the second highest volcano in North America. Standing 5,426 meters or 17,802 feet tall, the volcano has experienced eruptions since pre-Columbian times, and its activity is recorded in Aztec culture. The Aztec people also gave the volcano its name, which means "smoking mountain."
Geology
Popocatepetl is a stratovolcano. Formed over time by a build-up of layers of viscous lava and other pyroclastic material, stratovolcanoes have steep sides and a classic cone shape. On Popocatepetl's northwest face, a sharp ridge known as the Ventorrillo is the summit of the extinct and eroded Nexpayantla volcano, and shows the stratified layers of the structure. Popocatepetl is mainly made up of andesite, a volcanic rock which takes its name from the Andes mountains.
Mythology
In Aztec mythology, Popocatepetl and nearby volcano Iztaccíhuatl were once a young warrior and a princess. Iztaccíhuatl's father would not let them marry until Popocatepetl had defeated a feared tribal enemy in battle. Although he killed the enemy, one of Popocatepetl's rivals sent back a false message that he had died in the fighting and, left heart-broken, Iztaccíhuatl died of sorrow. The returning Popocatepetl was devastated by his lover's death and, after carrying her to the mountains, died beside her. The watching Gods turned the pair into mountains so they could be together forever, and the occasional eruptions from Popocatepetl's volcanic peak are reminders that he is still there, beside his lover.
First European Ascent
According to the Encyclopedia Britannica, it is thought that the Spanish explorer Diego De Ortaz became the first European to climb the volcano in 1519, although this is impossible to prove. Francisco Montano made the journey in 1522, when his men lowered him into the crater to a depth of between 400 and 500 feet. The next recorded ascent did not occur until 1827, and teams from the Mexican geological survey spent two days on the summit in 1895.
Eruptions
Scientists at the Smithsonian National Museum of Natural History have identified numerous eruptions at Popocatepetl over the centuries. Large eruptions in 823 AD and before were explosive, sending pyroclastic flows and mudflows into the surrounding landscape. These would have caused extensive damage to the area around the volcano. More recent eruptions have also been explosive—as is typical of a stratovolcano—but seem, on the whole, to have been less damaging. However, an ongoing eruption between March 1996 and Nov. 2003 caused significant damage and a number of fatalities.
Today
As of 2010, Popocatepetl is erupting. According to the Smithsonian National Museum of Natural History, continuous activity since Jan. 2005 has resulted in phreatic explosions, which occur when molten lava contacts water. In Popocatepetl's case the water inside the crater comes from the heat of the rising magma melting the glaciers on its peak.