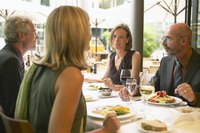 The business lunch provides an opportunity for potential or existing business partners to deepen company connections, continue contract negotiations and allow time for more free-flowing discussion and brainstorming outside corporate walls. Business lunches are anything but casual, however, so every detail–including the RSVP notification–should be planned to represent the company in a positive light, while positioning company players for the event. Companies should take care to observe correct business etiquette for an RSVP for a business lunch.
In Which Instances to RSVP
Business etiquette indicates that it is always correct to RSVP for a business lunch, according to business etiquette expert and consultant Susan Roane in her 2009 self-published article, "Working the Rules of Business Etiquette." While the fast pace of today's business world might seem an easy excuse for skipping the nicety of a business lunch RSVP, there is no reason why companies cannot offer an appropriate response. This is a sign of courtesy, good manners and attention to detail that will not go unappreciated.
RSVP notices are particularly appropriate for business association luncheons, when there is an expectation that guests pre-register and perhaps pay attendance fees. Showing up unannounced can cause problems with regard to seating, introductions and food preparations. It can make companies look ill-prepared or discourteous.
Timetable for Business Lunch RSVP
Business lunch invitations deserve a prompt reply–indeed, RSVP as soon as the decision to attend or not attend has been made. Read the invitation carefully--some invitations ask that "Will Attend" guests RSVP, while other invitations seek "Regrets Only" responses. Whatever the response, send the RSVP within a reasonable time so that the other party may continue planning. If there is a last-minute change of plans (for example, a flat tire en route to the event that prevents attending) telephone the host to explain the situation.
Manner in Responding
In most cases, companies should respond to a business lunch invite as indicated on the invitation. Respond by phone if that's what the host suggests, for example, or by e-mail if the invitation so indicates.
Who's Included
The invitation directly states who is invited to the business lunch. Invites reading "and guest" indicate that another person may accompany the invited guest, for example. Bringing along uninvited colleagues makes a poor impression.
Business Etiquette for Online RSVPs
Traditional paper invitations are being somewhat supplanted by online invitation and event-planning websites. While upscale and traditional events may still use paper invitations, large-scale and more casual business lunch events have increasingly turned to online electronic invitations where all parties may see responses.
It is still appropriate to RSVP to online invitations, according to etiquette website Elegant Woman in an article entitled, "RSVP Etiquette."
In this case, however, companies may use their discretion as to whether an online RSVP is appropriate. Companies may choose not to broadcast their attendance to all those invited, but may instead RSVP by phone, e-mail or postal mail.
If responding to an online business lunch invitation, take care when leaving posted bulletin comments that other invitees may read. Inappropriate posts containing foul language, references to alcohol or confidential business information are all inappropriate.