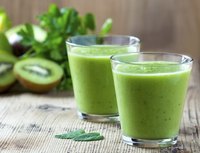 You'll be healthier, feel more energetic, have better skin and lose weight if you eat primarily unprocessed, uncooked plant foods, says Ann Wigmore, creator of the Hippocrates diet. Although the plan bears the name of the ancient Greek physician, he didn't advocate the same restrictive eating guidelines. While raw food diets like the Hippocrates diet encourage some healthy practices, experts like Yale Prevention Research Center director Dr. David Katz say science doesn't back it and the diet may result in nutritional deficiencies.Talk to your doctor before starting.
Eliminate Most Animal Products and All Processed Foods
All beef, pork, poultry, shellfish, fish, pasteurized dairy products and eggs are off limits on the Hippocrates diet. The only permitted animal products are raw, unfiltered honey -- no more than 1 or 2 tablespoons per day -- bee pollen and unpasteurized yogurts and cheeses. Any type of processed meat or meat substitute, commercially baked goods, yeast breads, pasta, canned fruits or vegetables, soda, coffee, tea, alcohol and sweetened fruit drinks are also forbidden. The Hippocrates diet emphasizes raw, organically grown fruits and vegetables, including sea vegetables like dulse, raw nuts, seeds and their nut butters and sprouted grains.
Cook Foods as Little as Possible
According to Wigmore, foods cooked at 115 degrees Fahrenheit or higher lose the nutrients and enzymes that make them healthy. A diet that contains too many cooked foods will leave you deficient in enzymes and with a greater risk of medical problems, Wigmore says. To maximize nutrient and enzyme intake, Hippocrates diet followers soak and sprout beans, nuts, seeds and grains and eat these raw or ground and shaped into crackers or loaves. Fermentation is another allowed preparation method. Wigmore claims that eating fermented vegetables, nuts and seeds can help protect colon health.
Fill Up on Chlorophyll
Juices made from raw vegetables, especially green ones, and wheatgrass are key components of the Hippocrates diet. Wigmore says the chlorophyll contained in these foods supplies Hippocrates followers with protein, vitamins and minerals like iron. On the program, you'll make and consume the juice fresh each day. Besides wheatgrass, recommended vegetables for juicing include kale, Swiss chard, fresh alfalfa or alfalfa sprouts, spinach and green beans. Other colors of raw vegetables -- carrots or summer squashes, for example -- are permissible, but only in small amounts as flavoring.
Transition, If Needed
Wigmore acknowledges that moving from a standard American diet to the Hippocrates diet is difficult. If you're having trouble, she suggests gradually transitioning to the diet by eating cooked or lightly cooked foods that are healthier than processed, refined items. Good transition foods include tofu, cooked beans and legumes, brown rice, barley, oats, steamed vegetables, cooked fruits like applesauce and whole-grain sourdough bread. As you acclimate to eating fewer animal products and more plant-based foods, slowly increase your intake of raw, uncooked produce, Wigmore advises.