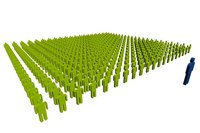 Entrepreneur, author and motivational speaker John C. Maxwell once said, "A leader is one who knows the way, goes the way, and shows the way." This succinct description of what effective leadership looks like is a helpful starting point for understanding what leadership should look like. However, in an era of economic struggle that has resulted in an increased appreciation and need for effective leadership, a more thorough understanding of the aspects of good leadership can be beneficial.
Motivation
One of the critical components of good leadership is the ability to motivate. A leader's task, as the word implies, is to lead a group of individuals towards a goal or in their day-to-day work. In order to mobilize these individuals, effective leaders must provide encouragement and inspiration. More motivated individuals result in more productivity and success.
Delegation
Leaders play a particularly important role in bigger projects and tasks. Standing at the top, they have a better view of the bigger picture, allowing them to effectively compartmentalize work and sort it out for completion. Good leadership requires delegation of tasks in a manner that is fair, balanced and informed. In other words, leaders should give out manageable but challenging amounts of work to the individuals best suited to complete the tasks. Effective division of work can produce better and more timely results.
Evaluation
Leaders, in order to manage their work force and continually improve it, will need to provide evaluations of the individuals working under them. Good leaders will provide consistent evaluations which both praise achievements and identify areas for improvement, providing constructive criticism in the process. This is important because it pushes a work force to achieve their true potential and helps them along the way.
Innovation
Innovation is a critical aspect of good leadership. An organization's survival in the competitive business climate that exists today is dependent upon its ability to stay ahead of the curve, offering new and better products and services to their consumers. A good leader will emphasize innovation as a competitive strategy, whether it pertains to office infrastructure, productivity measures, or the actual products and services presented as a means of advancing the overall goals of the organization they represent.
Dedication
A good leader is dedicated to their job. They are personally invested in their work and the individuals working for them. Dedication is important because it usually results in better work completed by the leader, as well as increased loyalty, trust and support from the work force operating under their purview.