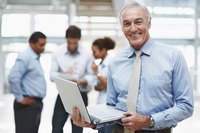 The Bank Secrecy Act, passed by Congress in 1970, identifies and prevents money laundering activities in the United States banking system. The BSA, in conjunction with provisions in the Patriot Act, also helps identify and deter financial activities that support terrorism. Its overarching purpose is to prevent the erosion of legitimate economic systems and the value of currency.
Features
According to the Financial Crimes Enforcement Network, the BSA requires banks to file reports on cash transactions, either individual or total, that exceed $10,000. They also must file for purchases of financial instruments, such as bonds, that exceed that amount. Banks also have to file a Suspicious Activity Report when it detects what might be criminal behavior. Banks that don't follow the rules can face criminal prosecution.
Streamlining the Process
To avoid overwhelming law enforcement, and to account for businesses that regularly engage in legitimate cash transactions over $10,000, the Money Laundering Suppression Act of 1994 created exemption rules. Publicly traded companies and domestic government agencies, for example, get exemptions. The rules also exclude certain kinds of businesses, such as law practices and real estate brokerages, from exempted status.