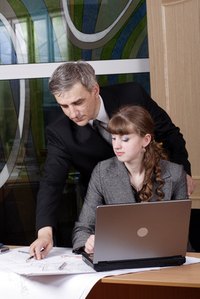 Retention of quality employees is a huge problem in a number of industries. Even in times of economic downturn, when unemployment is high and it seems like employers have their pick of workers, the competitive advantages of keeping staff outweigh those of having to hire new staff. In fact, poor retention and high turnover is extremely costly on many fronts.
Cost
Poor retention racks up large costs for hiring and training. There are the costs for any lost productivity by the person leaving in the last days of employment, severance pay, job posting ads, the time spent on the interview and hiring process, security and background checks, and testing. Other costs include overtime by other employees to carry the additional workload, the hiring of any temporary workers, training for the new employee, and lost productivity by the new hire while they adapt. Collectively these costs are so high that they can run anywhere from two to three times the annual salary of the person being replaced, according to career management consulting firm Right Management.
Morale
High turnover severely hampers morale among employees, since employees are in a constant state of change. When people leave and new ones start, established communication and working relationships that aid in cooperation and productivity are damaged. The trust formed between coworkers needs to be reestablished, which takes time, and projects that depend on that level of trust to be successful are negatively affected. Once turnover becomes too high, loyalty erodes and employees start asking questions about why everyone is leaving. This has them looking for negatives to explain the turnover and breeds dissatisfaction.
Customer Perception
Customer service and market perception suffer because of high turnover. Imagine how a customer feels if every time they call a company, they get someone new. In industries that rely on a high level of client interaction, this can be devastating, because customers need to feel that their interests are important and that they are being well served. If they constantly have to reestablish personal relationships and explain their wants and needs, the secure personal bond they feel toward a company diminishes and creates a situation for a competitor to come in and establish a relationship while taking the customer's business.
Problem Solving
Even in businesses that do not rely heavily on personal relationships with clients, having knowledgeable employees who are experienced within the company is vital for customer service and product quality. These employees are more flexible and better able to come up with creative solutions, since they know what is and is not possible and how things work. They are able to speak to customers with authority and confidence and set reasonable, realistic expectations. This improves a company's overall image in the marketplace and increases consumer confidence.
Job Performance
The longer employees stay with a company, the more vested they feel in the company's success. Employees also feel greater commitment to the results of their work. This increases the quality of their work and boosts productivity, because their work becomes an extension of themselves. This self-perpetuating cycle creates a better working relationship and financial benefit for both employers and employees.