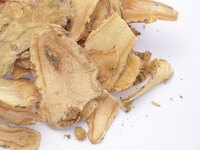 American ginseng (Panax quinquefolius) is a perennial herb that grows from Maine along the eastern seaboard to Alabama. In 1970, it was harvested to the point that the United States had to list it as an endangered species. This herb has a variety of uses and is currently exported by 18 states.
About
The ginseng herb has become a profitable crop due to the useful root it produces. The root of the ginseng plant is reported to serve a variety of uses, including lowering blood sugar, preventing stress and promoting relaxation. According to the Food and Drug Administration (FDA) ginseng is a "generally recognized safe food."
History
Once wild, ginseng started being cultivated commercially in the late 1800s. Although early attempts at growing the herb failed to be profitable, the Fromm brothers planted 100 plants in 1904 in Marathon County, Wisconsin, where the weather and soil conditions were favorable for the crop. Their discovery has led to this county becoming the number one producer of ginseng within the United States, providing 10 percent of the world's supply. In 1990, farmers in this county harvested $70 million worth of ginseng.
Growth
Ginseng is planted from seeds in the fall. From the time it is planted, it takes three to five years to grow to the point that it can be harvested and exported. At this point, the root of the plant measures 3 to 8 inches long and 1/4 to 1 inch in thickness. Roots ready for export will feature circular ridges and are soft and waxy in texture when broken. If the root is dry or glassy in appearance, it is less valuable.
Harvest & Storage
Roots that have reached the desired size are harvested in the fall. Once harvested, they are washed thoroughly and handled with care to avoid damaging the color or circular markings that are present on top-quality roots. Once washed, ginseng roots are placed on a wire netting in a well-ventilated and heated room to promote drying. This process starts with the room at 60 to 80 degrees F and lasts for four to six weeks, during which the temperature is increased until it reaches 90 degrees F. After they're dried, roots should be stored in dry containers that can't be accessed by rodents.
Export & Import
Ginseng is a common ingredient in Asian food products sold in the United States. American-grown ginseng is more costly than Korean-grown ginseng. As such, most of the ginseng grown in the United States is exported, while the United State imports ginseng from Korea for sale in America. In the Far Eastern countries where ginseng is common, it is used in toothpaste, soft drinks, candy, teas, cigarettes and gum. The product can also be purchased whole, as crystals, extract or powdered capsules.