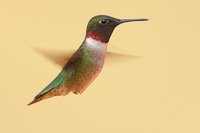 The most common hummingbird species to show up in Chicago during late spring, summer and early fall is the ruby-throated hummingbird, according to the University of Illinois. The ruby-throated hummingbird spends the warmer months in Chicago backyards and at feeders before heading south in late summer or early fall to avoid the area's cold winters. Sightings of broad-tailed, rufous and Allen's hummingbirds have been confirmed during the summer, but remain very rare.
Description
The ruby-throated hummingbird sports a bright green back and light green belly. The male remains the most colorful of the species, featuring a bright red patch on its neck consisting of stiff feathers. The patch looks metallic when light catches the feathers. The hummingbird's short legs stop it from hopping or walking, although they can shuffle along branches to rest.
Migration
The ruby-throated hummingbird heads north from Central America from March through May, timing its arrival when plenty of flowers in Chicago produce nectar. The females usually arrive in Chicago earlier than the males since the females must establish nesting territories. The beautiful birds start heading south in late summer or early fall with the juveniles leaving Chicago last. The males migrate even sooner, sometimes leaving in early August.
Reproduction
The ruby-throat hummingbird uses the summer months to reproduce and nest. Since the female arrives first, she starts looking for a good branch to build a nest. Sometimes she uses a nest from a previous year. Ruby-throats prefer wetland areas for their tiny nests, usually no larger than a thimble. Once the male and female copulate, the female stays away from a male's feeding territory since the males do not help raise the young.
Diet
Ruby-throated hummingbirds primarily eat nectar they find in flowers blooming in yards and gardens. They rely on this food source from the time they arrive in Chicago in late spring to the time they leave in early fall. The birds also eat tree sap, especially from holes made by sap-eating woodpeckers. The hummingbirds eat plenty of insects, too, including spiders, mosquitoes, gnats and small bees.
Attracting
In late spring and early summer, the hummingbirds visit sugar water feeders to renew their depleted energy sources after their long migration. The tiny birds look for orange or red flowers from which they can sip nectar. The males continue to use the feeders throughout the summer although the females stay away once they start nesting. Once the young birds leave the nest, their slower flight patterns and attraction to food such as that found at the sugar water feeders gives people more opportunities to spot them in the summer and early fall.