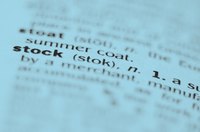 When investors purchase stock in a company, they are purchasing ownership stakes in that firm. As a result, investors have a claim on the assets and cash flows of that company. Investors earn a return on by selling the stock at a higher value, due to an increase in the company's value, and by receiving dividends. While some companies choose to retain all their earnings, others pay out a high dividend yield. In addition, the companies that choose to issue dividends can do it through a cash or stock payment.
The Facts
When a company earns a profit, it can choose to pay its shareholders in the form of a dividend as a way to share its profits. If a company chooses to declare a dividend, it will do so on a quarterly or annual basis. Once the company declares a dividend, it will set a Record date, followed by an Ex-dividend date. These dates determine the shareholders that will receive a dividend. You must own the stock prior to the Ex-dividend date in order to receive the dividend.
Stock Dividends
A stock dividend is when a company pays its shareholders in the form of additional stock. Investors receive new stock based on the amount of current shares they own. For example, if the dividend is one share for every two you own and you currently have 100 shares, after the dividend is issued, you will have 150 shares. Although you may own more shares, your shareholder wealth in the company does not increase. The assets and liabilities of the company do not change during a stock dividend. As a result, the increase in outstanding shares and the stable market value simply drops the price of each individual share.
Cash Dividends
Cash dividends provide investors with a taste of the profits earned by the company. Companies pay investors cash depending on the number of shares they own. When a company pays a cash dividend, it chooses not to retain those earnings and invest it back into the company. A firm will usually not pay out cash dividends if it is not cash rich or has a strong liquidity position. Instead, firms will either pay out a stock dividend or choose not to issue a dividend at all.
Significance of Dividends
Dividends play a major role in the long-term investment return an investor seeks when purchasing stock. Because investors have a claim on cash flows and assets, dividends help provide psychological security to investors. As a result, shareholders are motivated to hold on to the stock. This will help keep the price of the firm's stock stable since investors will choose not to sell of their stake in the company.
Why Stock Dividends
Along with motivating investors to hold on to their shares and retaining all of its cash flow, companies choose to issue stock to try to attract more investors. When a firm's stock price gets too high, it alienates smaller investors. By issuing a stock dividend, a company will increase the amount of stock outstanding while maintaining its market value, causing the price to drop. Consequently, the fall in stock price may attract more potential investors and raise more capital for the firm.