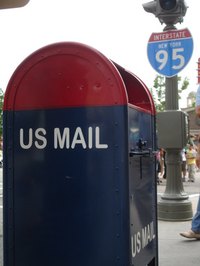 The term "Forever Stamp" refers to a unique postage stamp released by the U.S. Postal Service in 2007, which can always be used to mail a 1-oz. letter no matter when or at what price the stamp was originally purchased and regardless of any future adjustments to 1-oz. postage rates. The USPS originally developed the Forever Stamp as an effort to make customer adjustment to postal rate changes simpler.
Quick Postal Service Facts
The U.S. Postal Service (USPS) handles 40 percent of the world's annual card and letter mail volume. In 2009, it brought in $68 billion in revenue, processing 177 billion pieces of mail. On average, they process 584 million pieces of mail each day. They also processed 7.3 million passport applications and 135.1 million money orders.
USPS Rates
The earliest recorded postal service rates are from June 1, 1792, when rates were based on the distance a "letter"--one sheet of paper--had to travel to arrive at its destination. The lowest rate was 6 cents for mail traveling less than 30 miles; the highest was 25 cents for mail traveling more than 450 miles. Mail delivered by ship or steamboat was charged an additional fee.
Postage stamps were first issued in 1847; in 1855, prepayment of postage began to be required.
The first record of postage being determined by weight is July 1, 1863, at 3 cents per 1/2 oz.
On Sept. 14, 1975, additional ounces began to be charged an additional fee (at a lower rate). On July 15, 1979, a surcharge was added for non-standard envelope sizes.
As of May 11, 2009, the first-class mail postage rate was 44 cents.
History of the Forever Stamp
The Forever Stamp was first made available to the public April 2007; at that time, they were sold for 41 cents each. Since then, according to the USPS, they have sold more than 6 billion. The Forever Stamp features a unique design - the image of the Liberty Bell - and, unlike most postage stamps, has no numerically indicated face value, since its value is always the current value.
Value of the Forever Stamp
The value of the Forever Stamp, according to the USPS, is the "domestic first-class mail letter price in effect on the day of use," although they are always sold at the regular first-class mail rate. For example, when the Forever Stamp was released, it was sold for 41 cents apiece. One year later, in May 2008, the USPS raised first-class mail letter postal rates to 42 cents apiece. However, customers who had purchased the Forever Stamp prior to the rate increase could continue to use it to mail first class letters without having to add an additional 1 cent stamp. This automatic increase in value will continue permanently, regardless of the length of time or rate increase between purchase time and use.
International Mail Use
The Forever Stamp can be used, like regular postage stamps, to mail letters internationally. However, international prices are still higher than domestic prices, so customers will need to attach additional postage to cover the difference. The value of the stamp is the current domestic first-class mail letter price.