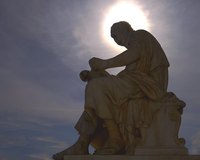 Ethics deal with choosing between right and wrong. In the business world, this can be difficult, because there are so many competing pressures when a person tries to determine a course of action. Ethics training can reduce the number of unethical behaviors within a company and help it become a respected corporate citizen.
Understanding Ethics
Ethics is the process of deciding if an action is morally responsible or not, as well as determining how to correct irresponsible choices. People's decisions and actions are determined by their beliefs, hence the two-tiered system of ethics. Type I ethics is the strength of the relationship between what a person--or business--believes to be right and what sources of guidance suggest is correct. Sources of guidance can include social mores and customs, the law, religion or role models. However, people do not always act how they should. Type II ethics is the strength of the relationship between what a person believes and how he behaves. So a person may know it is wrong to steal, knowledge backed up by laws that prohibit stealing, but still give into temptation and take something.
Business Ethics
People often have different personal codes of ethics for their business and personal lives. People often justify actions that they would not normally take because of the nature of business and getting ahead. Simply because an action is not illegal does not mean it is not unethical, which makes it difficult for many businesspeople to draw the line between what are savvy business practices and what are unethical actions.
Ethical Problems
The ambiguity around ethics and business, as well as the temptation to take the easy way out, means that there are often ethical breaches on the job. John Schermerhorn notes in his book, "Management," that nearly half of all employees reported doing questionable acts, often because they felt pressured to do so by other workers or their bosses. Common unethical actions in the workplace include lying, harassment, discrimination and misuse of company property.
Purpose of Ethics Training
Ethics training can reduce unethical actions. Training gives employees the knowledge they need to recognize ethical conflicts and work through them to arrive at a morally responsible decision. They may not always do what is right, but giving them the tools to determine what a good decision is will certainly improve the odds that they will do so.
Other Benefits
Ethics training will also encourage employees to come forward when they see other people in the organization acting badly. This can help to quash unethical behavior before it becomes widespread. A company filled with ethically responsible workers will earn the respect of clients and customers as well, and more trust should lead to more business.