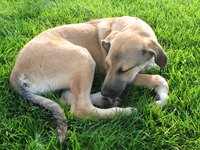 Small scratches on your dog need to be cleaned and monitored closely to avoid infection. Scratches can happen in a variety of ways, and even if a scratch looks small and harmless, it should be cleaned. Dogs don't understand that they need to keep scratches clean and dry; therefore they often become infected quickly.
Prevention
You can help to prevent infection in small scratches on your dog by cleaning them. Start by removing any dirt or other material from the area using with tweezers or freshly washed hands. Next, clean the site with 3 percent hydrogen peroxide or water. Pour the water or disinfectant right over the site or spray with a plant sprayer. If necessary cut any hair away from the site with scissors.
Bandaging to Avoid Infection
It's important to cover and clean the wound to avoid infection. Place a piece of gauze or a sterile pad over the scratch. Then, wrap a bandage over the pad, covering some hair surrounding the area, taking care not to bandage the area too tightly. Finally, secure the bandage with an adhesive bandage or tape to keep the bandage in place.
Checking and Changing the Bandage to Prevent Infection
It's important to check the scratch often and change the bandage to keep the scratch as clean as possible. Ensure that the bandage is kept dry and clean at all times, since it will be in contact with the scratch. A bandage that is wet will help to breed bacteria, so if it gets wet, replace it as described above. Change the bandage daily, or as often as possible to keep the scratch dry.
Signs of Infection
Infection in dog scratch seems to happen quickly. One day the scratch will look like it is healing and the next it is raging with infection. Checking the scratch often will help you see the signs of infection early so you can seek treatment. If you notice swelling, increased redness, a foul odor or drainage it is time to contact your vet for help.
Treatment of Scratch Infection
If you bring your dog into the veterinarian for treatment of the scratch, you can expect a thorough examination. Depending on the severity of the scratch and infection, the vet may decide to clean the wound, drain it, flush it or prescribe antibiotics to cure the infection. What course of action your vet follows will be subject to how severe the scratch has become.