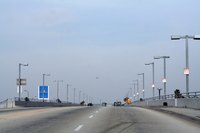 An auxiliary lane on the highway facilitates merging traffic during acceleration and deceleration, lane changes, turning and stopping.
Function
The purpose of an auxiliary lane is to facilitate highway traffic flow. The lane reduces traffic congestion and prevents a vehicle from exiting a highway onto a road at high speed. A vehicle is able to speed up to highway speed from a road using the auxiliary lane. Auxiliary lanes are primarily found in urban areas where traffic volume is greater. Auxiliary highways have been made to provide alternative routes and to connect two highways together.
History
In 1944, the Federal-Aid Highway Act was established. It authorized an interstate highway system that spanned 40,000 miles. Congress first authorized federal funding at 25 million dollars annually which increased throughout the the 1950s. In 1956 President Dwight D. Eisenhower signed the Federal-Aid Highway Act raising the federal share of expenses to 90 percent and creating a trust fund for the costs.
Funding
Expenses for projects creating and adding auxiliary lanes are paid from the Interstate Highway System. Seventy percent of highway construction and maintenance costs are covered by federal, state and local governments. The largest portion of funding comes from gasoline taxes, with the majority of the rest coming from tolls collected on highways, roads or bridges. The remaining costs are generated property tax, bond issues and other taxes.
Planning
Various factors are considered when creating an auxiliary lane, in order to determine the length of the lane. The approach taper must be geometrically calculated to figure out the thickness and slope of the lane. The deceleration length is calculated to determine the distance it would take for a vehicle going a specific speed to come to a stop. The bay taper is needed to determine the turning angle of the auxiliary lane. The departure taper is figured by geometric calculations and determines the distance and angle needed for a vehicle to exit the auxiliary lane.
Benefits
Auxiliary lanes were created to make freeway driving easier and safer for drivers. The lane provides drivers with a more gradual transition in approaching and exiting highways. Auxiliary lane highways allow denser traffic areas an alternative route to quickly arrive at a destination. According to a study done by the University of South Florida, areas with an auxiliary lane have fewer accidents than areas without one. An additional benefit of auxiliary lanes is that they open up the flow of traffic, saving time for drivers.