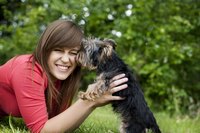 Patellar subluxation occurs when a kneecap has slipped out of place. Normally, the kneecap rests in a femoral groove. When dislocated or luxated, it can fall to either side of the knee. Subluxation is partial dislocation. In approximately 50 percent of dogs who suffer patellar subluxation, both kneecaps are affected. If you notice your dog frequently holding his leg up, take him to the vet for examination and diagnosis.
Patellar Luxation
While luxation can result from trauma, there's usually a genetic component to the disorder. Puppies might start showing evidence of luxation as early as the age of 4 months, looking bow-legged. Mildly affected dogs show few, if any, symptoms, but when the kneecap luxates, most dogs will lift a leg up temporarily, as if skipping. Severely affected dogs carry the leg up all the time. Your vet will physically examine your dog and conduct X-rays. She will diagnose the luxation on a scale of 1 to 4, with one the mildest and four the most severe.
Affected Breeds
Small dogs and large breeds are most prone to patella luxation -- medium-size dogs are generally off the hook. Toy and small breeds most likely to slip their kneecaps include the Yorkshire terrier, Pekingese, Chihuahua, miniature poodle, Boston terrier, Pomeranian and Maltese. It occurs more often in females than males. Affected large breeds include the Shar-Pei, Great Dane, Great Pyrenees, Saint Bernard, flat-coated retriever, Irish wolfhound and Akita. Dogs with hereditary congenital patellar luxation shouldn't be bred.
Luxated Patella Treatment
Mildly affected dogs don't require treatment. Your vet might suggest surgery for a dog with stage 2 luxation and will almost certainly recommend it for dogs in stages 3 and 4. Your vet might perform one of three types of surgery to correct the dislocation. In a procedure known as trochlear modification, she will deepen the groove in which the patella is situated so the kneecap doesn't slide out. Lateral imbrication, meanwhile, involves tightening the kneecap to the outside to keep it in position. In a tibial crest transposition, your vet removes the bony protuberance at the area where the tibia and quadriceps tendon attach, then reattaches it so that the quadriceps tendon and patella are realigned.
Long-Term Prognosis
It takes approximately six weeks for a dog to recuperate from surgery. Most dogs recuperate well and go back to normal activities. Prevent your dog from jumping off stairs, the bed or other high places, if possible. According to the American College of Veterinary Surgeons, more than 90 percent of dog owners reported satisfaction with the surgical outcome, but the ACVS warns that large dogs might not experience outcomes as good as those of smaller canines.