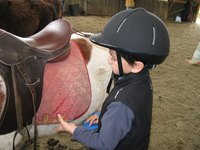 Equine therapy uses horses as part of the treatment for a wide range of physical and psychological problems. It can be used to help children with autism, ADHD, Down's Syndrome or developmental delays. Since the program can be tailored to meet special needs, like exercising a specific group of muscles, people with cerebral palsy, visual impairments or stroke can benefit from it, too. It can also be used to help troubled teens learn how to develop confidence, responsibility, self-control, empathy and affection.
Theory
Horses need a lot of care. When a patient is busy grooming, feeding, or exercising a horse, he isn't focusing on his own problems. This gives his mind a rest from the difficult issues he's facing. In addition, a patient has to learn new skills in order to care for a horse. Learning these skills increases self-confidence. Patients don't need to worry about rejection either, since horses are non-judgmental.
Horses are good animals to work with because they mirror the emotions of the people around them. If the person caring for it is aggressive, controlling or noisy, the horse becomes fearful and responds negatively. Patients learn that their behavior affects others. In order to work with the horse, they have to learn how to change their behavior. Horses are herd animals. They need to feel safe and look for a leader to tell them what to do. A horse will co-operate with a person who makes requests instead of demands.
By teaching a patient how to work with a horse, the therapist also indirectly teaches her how to apply the same skills in her personal relationships.
The Process
Equine therapy involves establishing and nurturing a relationship with a horse. In addition to a trained professional therapist, a horse professional is also involved. Activities vary, depending on the program, but can include grooming, feeding, haltering and riding the horse, games and exercises. There may also be lessons in vaulting, dressage or other subjects. During the process of working with the horse, the patient and therapist carry on talk therapy.

The Horses
In addition to being healthy and sound, good therapeutic horses share a number of traits. They must be calm and kind, and like people. They must not be easily spooked. This is especially important because patients are apt to make mistakes when working with them. They must be trainable. They can't be aggressive toward other horses. Stallions and competition horses are not good choices. They can't be head shy and they must be able to work two hours a day under saddle.

Benefits
The American Physical Therapy Association and the American Occupational Therapy Association recognize the therapeutic benefits of riding. The gentle, repetitive motion of a horse's walking gait moves a rider's body in a way that approximates the human gait. Physically disabled riders can gain muscle strength and flexibility. Patients can improve balance and mobility. In addition, equine therapy provides patients with a safe environment in which to work out their problems, and horseback riding creates a sense of independence.
Cost
The cost of equine therapy can vary widely depending on the program and the therapist. Prices can range from $75 per session to around $4,000 for a twelve-week course. Patients can attend once a week or have several sessions each week. Some places offer scholarships and some insurance companies will reimburse patients for part or all of the cost if it's conducted at an accredited facility under the guidance of a trained therapist.