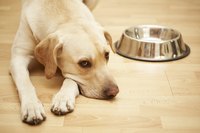 Dogs can scarf up substances that would sicken or kill humans -- yet that doesn't mean they're immune to food poisoning. Raw pork is a potential reservoir for the same pathogens commonly found in other raw meats. However, it can harbor one particularly nasty and invasive parasite that doesn't occur in the meat of other traditional livestock animals -- the nematode responsible for trichinosis.
Three Common Pathogens
Raw pork, like other raw meats, may be contaminated with microorganisms that cause food poisoning in dogs and people alike but are easily killed by cooking. Three of the most common, salmonella, campylobacter and listeria, may or may not cause overt symptoms of illness in dogs. But even when they don't, these pathogens may be shed in feces and saliva for weeks after the original exposure, thereby posing a danger to humans as well.
Symptoms of Food Poisoning
When signs of food poisoning from pathogens in raw meat occur, they typically last for three to five days. Symptoms, in dogs and humans alike, include bloody diarrhea, fever, vomiting and lethargy.
Trichinosis or "Pork Worm"
Pigs and some wild game animals are susceptible to contracting a roundworm parasite called T. spiralis, also known as pork worm. When dogs or people eat meat contaminated with the larvae of this nematode, they migrate to muscle tissue, where they form cysts, causing severe inflammation, pain and possibly death. Puppies are at higher risk than adult dogs. If caught in time, this disease, trichinosis, can be treated with antiparasitic drugs.