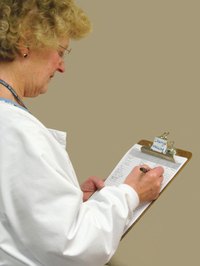 Long-term care insurance pays a set benefit amount for a wide range of services, including assisted living, nursing home care and in-home care. Policies are offered through insurance companies and can vary in the type and amount of coverage provided. According to AARP, long-term care insurance is different from and complementary to traditional medical insurance, Medicare and Medicare-related plans like Medicare supplement plans.
Policy Benefits
Long-term care policies can cover services in a number of settings. Most policies cover nursing home care and Alzheimer's services. Policies can also cover home and community-based services, including adult day care and at-home care.
Policy Features
Long-term care insurance policies have some basic features in common. The daily benefit amount is how much the policy will pay per day for facility-based care. There may also be a weekly or monthly benefit amount for home-based care. The elimination period is essentially the deductible, and is the number of days a person is eligible for services before the policy will pick up the costs. Elimination periods range from zero days to 180 days. The benefit multiplier is the minimum number of days the policy will pay for care. This can range from 360 days to an unlimited number of days.
Optional Policy Features
Policies also offer riders, which are optional add-ons to the policy. Inflation protection is one--it adds benefit money to the plan annually to keep up with inflation. Non-forfeiture riders, according to AARP, keep some of a policy's benefits in place even if you don't pay the premium. There are special riders for married couples and domestic partners. Riders can significantly increase the cost of a policy.
Who Should Buy a Policy
A.M. Best, a company that rates insurance companies, writes that "basically, everyone but the poor and wealthy" needs long-term care insurance. The impoverished can qualify for Medicaid, which is a government program that pays for medical and long-term care services. The very wealthy may be able to cover the costs outright. Those concerned with passing on assets as a legacy to family or being a burden on loved ones should consider a policy.
Policy Restrictions
Long-term care policies may not cover services done by a friend or relative who isn't licensed or certified as a nursing assistant. Policies also will not cover services covered by Medicare.