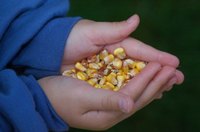 As products move from manufacturer's factory to consumer's table, they can encounter a number of intermediate consuming bodies before ultimately being bought by a final consumer. All intermediate consumers are buyers of that product or service. At each link in the distribution chain, there will be an exchange of the commodity from one entity to another at a prevailing cost. The price of the commodity gets marked up at each sell, as intermediate buyer-consumers add a small markup as compensation for performing their particular role in the distribution channel.
Original Producer
Every distribution chain begins with an original producer. This might be a farm growing fruits and vegetables or raising livestock like cows or sheep. From this original producer, some of its output may go for food but some may be used as one of many components in manufacturing. The simplest final consumer is the one direct from field to table. Farm grown corn sold fresh at a farm stand has a short distribution chain. For the farmer, the customer at his farm stand purchasing a few ears of corn is the final consumer.
Manufacturer as Final Consumer
Perhaps the farmer raises corn to be used in the production of Ethanol to make fuel for car engines. To make Ethanol, the corn would need to go through technologically complex syntheses and refining processes before becoming usable as automobile fuel. During this complex manufacturing process, several companies might be involved in this pipeline. The commodity might travel great distances from place to place as it changes hands for further refinement. The final consumer of the corn commodity changes several times the more complex the manufacturing process.
Broker as Final Consumer
Every manufacturer of a finished product might be the final consumer of one or more suppliers. In those cases, the distribution chain lengthens and so does the number of entities who can claim status as 'final consumer' for a time. The corn farmer might sell the bulk of his corn harvest to a regional food broker, who then sells corn by the ton to local grocery store chains. Once the goods are sold anywhere along the chain, designation of who the final consumer is changes.
Retailer as Final Consumer
Once produced as Ethanol, the corn might now be sold at retail at local gasoline stations that sell Ethanol. The Ethanol refiner-manufacturer will have sold its output to an Ethanol distributor or fuel oil broker, who in turn, sells it to owners of cars able to run on Ethanol. Each purchaser can call themselves the final consumer unless and until they resell the commodity to another user.
Ultimate User as Final Consumer
Whomever ultimately consumes or disposes of the original product in its final form is the final consumer. The final form of the consumed commodity may be totally unrecognizable from its original natural state and so too will its "final consumer."