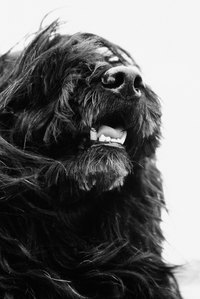 Dog coats are specific to each breed and individual canine, but there is no difference between dog hair and dog fur. In fact, an expert told Scientific American that there is no difference between dog fur and human hair, except that dogs have a lot more of it. The glossary of the American Kennel Club defines "coat" as a dog's "hair covering."
There Are Many Kinds of Hair
Mammalogist Nancy Simmons told Scientific American that although all mammals have hair, species are distinguished by hair pattern. Humans have hair only in certain spots while many animals such as dogs and cats have hair almost everywhere. People and dogs have some hair that grows long and other hair, such as the hair on a human arm, that stops growing at a certain length.
Some unexpected animal features, such as whiskers and porcupine quills, are actually hair. They are all made of the protein keratin.