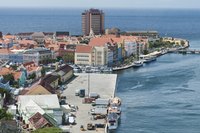 You can't go wrong spending your vacation in Aruba or Curacao, part of the Dutch ABC Islands in the Southern Caribbean. These two neighboring islands share a similar climate and Dutch colonial history, but offer vastly different experiences that make a visit to both islands worth it. Aruba is known for its first-class beachfront resorts, fine dining and white sand beaches, while Curacao is a nature lover's paradise, with few resorts and more cultural experiences. Flights between the two islands are plentiful, but you can also splurge on a private yacht to get you between Curacao and Aruba in style.
By Air
Traveling by air is the only commercial way to travel between Curacao and Aruba. There are a few airlines that will take you between the two countries, a roughly 35-minute flight. InselAir offers several flights a day, seven days a week from Curacao International Airport in Willemstad, Curacao, and the Queen Beatrix International Airport in Aruba. Tiara Airlines also offers limited flights between the two airports. The number of flights depends on the day. Book as far in advance as possible to secure your seat on the day you wish to travel. You must have your passport with you to travel to and from either country. A visa is not needed for U.S. citizens.
By Private Charter
A private boat charter is an option to travel between Curacao and Aruba, if you can afford it. Nearly all options are private yachts that include a full crew and staff to attend to your every need. Depending on the yacht company, you can choose a pre-planned private itinerary for travel between the islands, including sightseeing, or you can completely customize your experience. Private charter services available from Curacao and Aruba include Paradise Yacht Charters, Elegance at Sea and Domicil Yacht Charters.
Departure Tax
When flying out of Curacao to Aruba and vice versa, there will be a departure tax that you must pay when leaving both airports. Departing from either island, the fee fluctuates from year to year, but is generally between $30 and $40 dollars. At both airports, there are marked counters where you pay departure tax before going through immigration. Keep the receipt with your ticket to show the immigration officers. If you are departing Curacao or Aruba for the U.S., the departure tax is typically included in the price of your fare.
Touring and Getting Around
If you'll be in Aruba or Curacao for a day or so, you'll want to make arrangements to get around and explore the island while there. If you have a specific destination in mind, taxi from the airport. You can rent a car at the airport if you wish to explore on your own. Both airports also have tour desks that can set you up immediately with a variety of day tours if you have not already made arrangements. In addition, Tiara Air offers day trip packages for both islands that include airfare, taxes and a guided tour around the island.