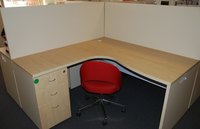 More and more companies are saving space and moving employees into cubicles. A cubicle is a small area used for work which is enclosed by temporary walls. Companies usually place several cubicles in open areas of their offices to get more employees into a small area and save on office space. Since normally only executives get offices, companies can move into smaller office spaces and save money on rent. If you are stuck in a cubicle, there are several things you should try to do to keep the peace with your neighbors.
Eavesdropping
The walls of a cubicle are usually only five to six feet high with open ceilings and no doors (although there is an opening which is used as an entrance and exit). This means that sound can and will travel over the cubicle walls. Try not to eavesdrop if you can help it. Your neighbor might be having a discussion with a co-worker which you can hear. The key is to do what you can to mind your own business and not get involved in their discussion. Should you enter a conversation uninvited, your neighbor will know you were listening and might not appreciate it.
Boundaries
Interrupting your co-worker is usually not a good idea, but some people seem to think that the normal rules don't apply in a cubicle set-up. The cubicle is an employee's office and the boundaries should be treated as such. Pretend there is a door in each cubicle and respect it. Knock on the cubicle and wait for an invitation to enter instead of walking in. Don't try, simply because your can see her, to get your co-worker's attention if she is on the phone or thinking about a problem. Allow her as much privacy as working in a cubicle allows.
Actions in Your Cubicle
Be aware of activities in your cubicle that might affect your co-workers. Don't play your music too loud. The same goes for decorating your cubicle. Keep any décor tasteful and within what is acceptable for your office.
Smells
Don't eat foods with strong scents or wear strong perfumes or cologne, as those smells will travel over the walls and possibly give people headaches and nausea. If your food has a strong smell, eat it in a lunch room or go out to eat. Make sure that you are tasteful in your personal scents.
Meetings
Take any meetings you have with clients and co-workers out of the cubicle. Not only will a vacant office or conference room offer you more privacy, but in your cubicle, your co-workers will be able to hear your meeting as well as you heard theirs. This is especially important if you have to give some sort of bad news. Doing it in your cubicle makes your co-workers a part of it whether they want to be or not.