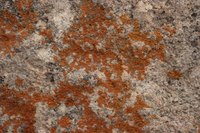 Eczema is a skin rash condition that begins as small, red bumps that can progress into weeping sores all over the body, according to the Mayo Clinic. Kidshealth.org says that eczema is not an allergy, but an allergic reaction triggered by allergens such as mold. The skin condition is mostly found in infants (one in 10) whose parents suffer from hay fever or asthma.
Function
If you suffer from eczema, mold may be a trigger that causes an eczema flare up. When your body comes in contact with mold, your immune system recognizes it as an allergen (a hazardous substance) and attempts to fight it off by releasing antibodies and histamine. The chemical release in the body triggers common allergy symptoms such as nasal irritation, eye irritation and eczema.
Symptoms
Eczema from mold symptoms includes discolored skin, thickened skin, raised red bumps that are itchy and may burn, and cracked skin with fluid leaking out. If the eczema symptoms are a result of mold, they will diminish when the mold is removed.
Prevention
U.S. News and World Report says the best way to prevent eczema is to avoid all triggers such as mold. Remove all mold visible around your home such as around the foundation of your house, under sinks and in the bathroom. Use chlorine bleach to effectively kill visible mold. When you clean, use a face mask to avoid breathing in airborne mold. If the eczema becomes visible, do not scratch it to prevent a more severe outbreak.
Treatment
Kidshealth.org says using over-the-counter topical corticosteroid creams may reduce the symptoms of eczema. Topical corticosteroid creams are directly applied to the affected areas on the surface of the skin. If your condition does not improve in seven days, talk with your doctor about using prescription-strength steroid creams or lotions. Other treatments include taking an oral antihistamine or antibiotics if you develop a skin infection.
Considerations
Mold can grow anywhere and may be unseen in particular areas. If you notice a particular room or piece of furniture causes an eczema flare up, avoid that room or piece of furniture. Consider installing or using a HEPA air-purifying system in your home to remove mold spores from the air.
Complications
Seek medical advice immediately if you experience severe allergic reaction symptoms such as swollen lips, difficulty breathing and swallowing, feeling lightheaded, an outbreak of hives and wheezing. If your skin is painful or you are unable to sleep through the night because of the skin irritation, ask your doctor about other treatments.