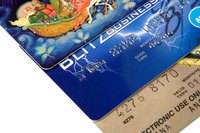 Using credit cards is a convenient way of making purchases, both online and off. With banks making checking accounts accessible through the use of debit cards, which act similar to actual credit cards, many people shop without taking much time to think about the differences. But there are differences between credit cards and debit cards, and that difference becomes quite apparent when bill time rolls around and you find you've maxed out your credit card.
Significance
Credit scores are affected greatly by your credit card being maxed out. Thirty percent of one's credit score is affected by what happens on a credit card. One negative "ding" is too high a ratio of credit you've used on your card relative to the limit you were given; therefore, maxing it out is a huge ding. The more credit cards you have maxed out, the more negative dings you acquire.
Effects
By maxing out credit cards, one reduces their buying power. When no longer able to use credit, one must resort to using cash, which reduces bill-paying power. Soon, there is no credit and no ability to pay down limits. This can create a poor money management cycle that can get worse over time.
Misconceptions
One common mistake is paying the minimum payments on a maxed-out card. Often, it is thought that by paying this way, the maxed-out card's balance will lower in the same manner it did before. This is not the case. The card will accrue a higher level of interest, and depending on how low your payments are, the interest can even take the card over the spending limit and cause over-limit fees that increase the balance even more.
Considerations
One should consider that with high balances or maxed-out credit cards, one's credit score and buying ability can be reduced. Sometimes a credit card account can be closed until the balance is paid in full. This balance can include finance charges that the holder can be liable for, since finance charges continue to accrue despite the closing of the account.
Warnings
If you are trying to refinance your home, seeking loans for repairs or even for education, the damage to your credit rating by having maxed-out credit cards may make you unable to get financial assistance. Even if you are making payments, having a maxed-out credit card shows poor planning and money management, which lenders view in a poor light.