While avocado doesn't rank among the top allergy-causing foods, it does trigger reactions in some people. Reactions to avocado allergies can range from mild to life-threatening. Many people who are allergic to latex and pollen react to foods that have similar proteins, including avocados. Seek immediate medical attention if you experience symptoms of an avocado allergy because some reactions are severe.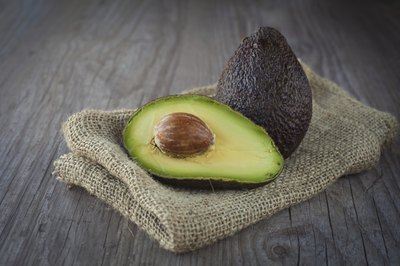 Latex Cross-Reaction
The most common avocado allergy is latex-fruit syndrome. Some people who are allergic to latex have a cross-reaction with certain foods that have proteins belonging to the same class as the allergy-causing protein in latex. As many as 50 percent of people with latex allergy develop a cross-reaction, according to the American Latex Allergy Association. If you have a respiratory reaction, you may have trouble breathing or feel as though your chest is tight. Your skin may react with itching, swelling or hives. You may even experience a severe whole-body reaction called anaphylaxis.
Pollen Cross-Reaction
Some people who are reactive to pollen experience an allergic response in the mouth after eating certain foods, such as avocado. This cross-reaction occurs because avocado contains a protein similar to the allergy-causing protein in pollen. After eating an avocado or food that contains avocado, your mouth may feel itchy and you may experience mild swelling of the tongue or throat. This type of allergy is called oral allergy syndrome. If this is the type you have, you may be able to tolerate cooked avocado because the protein that causes this reaction is destroyed by heat, according to the American Academy of Allergy Asthma and Immunology.
Reaction Without Latex Sensitivity
It's possible to have an allergic reaction to avocado without having a sensitivity to latex or pollen. For example, some people who are allergic to kiwi have a cross-reaction to avocado. This type of allergy is considered rare, but reactions can be severe. The journal Allergy, Asthma and Clinical Immunology published a case report in July 2011 describing an anaphylactic reaction to avocado in a 15-year-old male who did not have latex allergy.
Making Dietary Changes
With an avocado allergy, check ingredient labels carefully and avoid any food that has avocado in it. Avocado is a unique food, so finding a substitute isn't easy. It's a fruit, but it has a rich fat content and a creamy taste and is generally eaten as a vegetable. Bananas have a similar taste and texture, although sweeter. However, those with latex sensitivity commonly react to bananas, too. In dishes, cooked chayote squash is a good substitute for avocado. As a dip, hummus can substitute for guacamole. Thick pea puree dip is another good guacamole substitute.