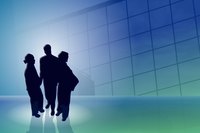 Diversity in organizational culture, if used appropriately could help improve the group's efficiency. The key is knowing its benefit, having the ability to incorporate diversity-friendly procedures in an organization's policy and educating its impacts to members of an organization. The cooperation of members toward a common goal would also help enhance diversity in an organizational setting.
Definition of Organizational Diversity
Organizational diversity is defined as the differences of age, value, gender, education, ethnic groups, culture expectation and working habits in an organization. Embracing diversity in organizational culture is allowing these tangible and intangible differences to be nurtured and become a part of the culture. Organizational culture evolves as new members are added to the mix. The term is most frequently referred to as corporate culture. But it could also apply to the differences in other organizational structures such as in a community volunteering group, a homeowner association or the parent-teacher association.
Diversity Advocation
Cultures with organizational strategies advocate diversity. Organizational missions, goals and policy also help set the tone of organizational culture and promote team synergy. When members accept that diversity is what is required to promote innovation and progression in an organization, resistance to change is minimized. Organizations that offer diversity plans for senior members to implement and practice in their day-to-day interactions also help further the effort. Shared common goals and the willingness to learn about the differences in cultural expectations can surpass cultural and language barriers.
Diversity Mindset
There are deeper dimensions to diversity than external traits. One is developing a global mind set. According to Dr. Stephen Rhinesmith, Senior Partner at Mercer Delta Executive Learning Center, there are six characteristic traits: Knowledge--striving to see the overall picture of an organization. Conceptualization--the idea to accept life as an equilibrium of contradictory forces. Flexibility--instead of insisting things go a certain way, trusting that the process will work itself out at the end. Removing judgment--be willing to accept ambiguity and changes as opportunities for growth. Reflection--improve yourself by identifying what needs to be changed for the better.
Cultural Expectations
Managing cultural expectations does not require that we change each other. It also does not judge whether one set of expectations and standards is more valid than another. Managing cultural expectation ask that one recognizes and respects the fact that there are differences among groups of different age, gender and culture. The goal is to achieve a mutually accepted method of communicating and collaborating within the same organization.
Benefits
Obvious benefits are increased competitiveness, openness to new reactions and innovations through diverse viewpoints. The less subtle benefits can be found in organizational members' attitude. Members will become more flexible to different cultural perspectives. As organizations become more global, companies with a diverse group of members are naturally better equipped at addressing client needs of different cultural backgrounds.