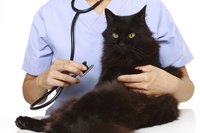 Urinary tract infections may strike suddenly, or they may be the result of a pre-existing condition. Though urinary tract infections can occur in both male and female cats, males both neutered and intact are more prone to infections, particularly between the ages of 1 and 4. Diligent home care and careful attention to your cat's diet can prevent infections and recurrences.
Causes of Urinary Tract Infection
The causes of a urinary tract infection are not always easy to pinpoint. According to petMD, urinary tract infections may erupt suddenly or may be the result of diseases such as painful bladder syndrome or viruses such as calcivirus and gamma herpesvirus. Urinary stones, called uroliths, can develop in a cat's urinary tract. Formed by minerals, the stones can grow to an inch. These stones make it difficult, if not impossible, for a cat to pass urine. Should changes in his diet fail to dissolve the stones, the cat will need surgical intervention to remove the stones, according to Cornell University. Once a cat has developed a urolith, he will be at risk for developing more stones.
Symptoms of Infection
Cats suffering from a painful urinary tract infection display a variety of symptoms, including an inability to urinate due to pain, blood in the urine, the frequent passage of small amounts of urine and urination in unusual and inappropriate locations. The cat may be incapable of urinating due to a blockage in the urethra. According to the American College of Veterinary Surgeons, male cats are more likely to develop feline urologic syndrome than females. Feline urologic syndrome is characterized by mucous plugs in the urethra due to an inflamed bladder. Obstruction occurs in male cats due to the length of the urethra, which is also narrower than in female cats. Complete blockage of the cat's urethra is considered an emergency.
Diagnosis and Treatment
The cat's veterinarian will begin by ruling out any disorders that may be causing obstruction or infection. Next, a urinalysis and blood test will detect the presence of symptom-causing bacteria, fungus or parasites. A complete physical exam will allow the veterinarian to detect physical sources of the symptoms, such as physical abnormalities, constipation or trauma. According to petMD, the veterinarian may order X-rays if he believes that your cat has a kidney stone, and he may perform a cystoscopy to detect the presence of cysts or polyps in the urinary tract. Cats with blockages of the urethra will be hospitalized for treatment and observation. If your cat doesn't have a blockage, he'll be sent home and may be prescribed an antibiotic.
Recurrence and Management
To prevent further infections and blockages, you can feed your cat small meals frequently. Cats with a history of developing blockages in the urinary tract may be prescribed a diet that will encourage the production of acidic urine. Your cat should always have access to fresh water to flush toxins from the urethra and bladder. Feeding him wet food also may help increase urine output and prevent further symptoms, according to petMD. Litter boxes should be kept clean and placed in quiet areas of the house. Your cat will benefit from a regular daily routine that minimizes stress.