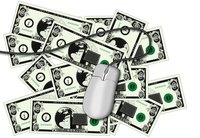 Companies can take advantage of web advertising to complement their standard media and print marketing. The wide reach and continual exposure of online advertising work tirelessly to give businesses heightened visibility and audience contact. Companies can differentiate their brand online with useful information, positive interaction for their website visitors and enhanced communication to attract new customers and keeps existing ones loyal.
The State of Web Advertising
Consider the scope of the Internet marketplace for online advertising. Internetworldstats.com reports a total of 1,802,330,457 web users globally, as of December, 2009, the majority being in Asia, Europe and North America. The United States has the highest Internet penetration rate, however, of 76.2 percent.
The U. S. Census Bureau estimates ecommerce sales for the first quarter of 2010 generated $38.7 billion, a rise of 14.3 percent from 2009. Web advertising statistics on Getclickz.com indicate spending of $22.7 billion for online advertising in 2009.
The History of Web Advertising
Web advertising began in the mid-1990s with online marketing spending of $301 million in the U. S. By 1997, web advertising spending increased to nearly $1 billion as business interest rose in this new medium. In 1997, web advertiser Bristol-Myers Squibb added 30,000 new customers at the rate of 1,000 per day with an online product giveaway. This exceeded expectations at half the cost of traditional marketing.
Businesses jumped aboard and targeted web advertising grew until the dot-com boom ended. It has since evolved into the rich interactive online marketing we experience now.
The Types of Web Advertising
The foundation of web advertising is search engine marketing, driving traffic to business websites. EMarketer.com notes $10.7 billion was spent on it in 2009. This includes Pay Per Click search, website inline ad placement and paid inclusion.
Other web advertising formats are display ads, such as banners, classified ads and auctions, such as Craigslist or eBay, and lead generation using email or social networking. Email lists and campaigns communicate personally with potential customers, and Google recently began a video advertising service. These all offer online businesses many web advertising opportunities.
The Advantages of Web Advertising
Web advertising levels the playing field for all sizes and types of businesses. Low-cost Internet access and Web 2.0 tools give every online marketer the ability to build an audience, give them value and sell them products or services. Unlike print or broadcast media, web advertising works 24 hours a day, seven days a week with no vacations or time off. Other advantages are immediate viewer feedback and rapid analytic ability, as well as the ease and speed of restructuring online marketing advertising campaigns to meet changing circumstances.
The Future of Web Advertising
For the short-term, web advertising is expected to rise 5.5 percent through 2010 as advertising leads overall economic recovery. This will follow the expected rise in ecommerce as more Internet users shop online, more products are offered and the purchase process becomes increasingly streamlined.
Technological improvements will positively impact web advertising as broadband access penetrates more regions. Internet search will become increasingly intelligent and location-aware, mobile device usage will become more widespread, with media-rich and powerful applications and the personalization of online consumer interaction with businesses will widen and deepen.