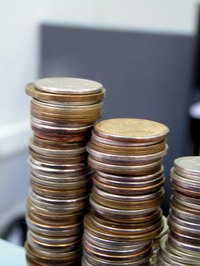 The most common way for individuals to transfer money internationally is through a wire transfer. A number of companies exist to help with these transfers, or they can be done between banks, although banks are slower and more exact on requirements. The exact requirements depend on what kind of transfer you are making and which entity will conduct the transfer.
General Requirements
The basic requirements for any transfer are the official IDs of the sender and receiver, money in the form of cash, a card or a bank account, an intermediary that operates in the country of origin and the destination and the personal data of the sender and receiver. Make sure that all names and numbers are correct. Ask the company you choose to use for their specific requirements.
Cash Transfers
To set up an international transfer to send cash, you need to go to the branch of an international wire transfer company, such as Western Union or MoneyGram. The representative will ask you for cash, ID, the name and location of the recipient and sometimes a security question that the recipient can answer. After you pay the service fee, the representative will give you a code or reference number which you should give to the recipient, and the money should be available in 24 hours.
Bank Transfers
Most commercial banks provide international transfer services to transfer money between accounts, usually through swift codes. Different banks have different requirements, but most will ask you at the very least for a swift code from the recipient's bank, the recipient's full name and account number, and the recipient's bank's address and phone or fax number. Bank transfers usually take several days.
Online Transfers
A number of companies exist that facilitate international transfers online. These are convenient and usually cheaper than wiring cash. Most require you to set up an account first, with all of your personal information. You can link your debit or credit card and bank account to your account on the website in order to transfer money more easily. Depending on the website, you can transfer money to a bank account, which usually requires an account number and matching routing number, or have the company send a check in local currency to the recipient's home or business.
Considerations
Different services have different requirements, costs and advantages, depending on how fast the transfer can be completed and the level of anonymity. Cash transfers are fast and can provide anonymity, but are also the most expensive. Online transfers can be fast and cheap, but often require you to link your financial information to the website. Bank transfers are the most secure and are often free or charge a low commission, but take a while.