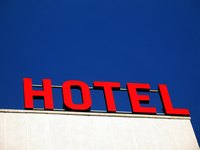 When it comes to traveling and booking accommodations, finding a suitable hotel can be more efficient when you take into consideration the ratings. However, there are two rating systems that are credible and trustworthy for your overnight stays. One is the five star system and the other is the five diamond system. Each are from different companies but offer very similar results when it comes to providing feedback about hotels.
Five Star Rating
Forbes Travel Guide initiated the five star rating in 1958--longer than any other site or company. It ranks hotels, spas and restaurants from one star to five stars all over the world. They do not call ahead or warn staff that they will be inspecting the venues. The Travel Guide inspectors make unannounced visits to perform two types of inspections. The facility inspection evaluates cleanliness, physical condition and location. The service inspection evaluates more than 500 service standards for properties that might qualify for a Four Star or Five Star Award.
Forbes Travel Inspectors
The staff at Forbes Travel Guide use checklists, stopwatches and recorders to gather an in-depth feedback analysis of the property. The inspector spends three days and two nights in a hotel to interact with staff, drink at the bar, order room service, visit the spa and take part in other hotel amenities to compile a hotel rating. These inspectors also evaluate the graciousness, efficiency and luxury of the property and its staff. The inspectors are constantly observing the facility staff and their interactions with other hotel guests.
2010 Top Star Ratings
According to Forbes Travel Guide, it awarded Five Stars to 54 lodgings, 21 restaurants and 18 spas in 2010. Four Stars were awarded to 160 lodgings, 156 restaurants and 107 spas in 2010. Forbes rated more than 8,000 hotels.
Five Diamond Ratings
The Five Diamond rating was developed by AAA in 1977 for qualified hotels and restaurants in North America. However, starting in 1937, it solicited field inspectors to inspect hotels, motels and restaurants. Every establishment is inspected at least once a year, and the AAA inspectors go through six weeks of training to be able to inspect properties.
AAA Inspectors
According to AAA, the company has 65 full-time, trained, professional evaluators who are titled tourism editors. They inspect about 41,000 lodgings and restaurants per year. The tourism editors visit the restaurants and hotels unannounced and evaluate cleanliness, the staff and overall hospitality and amenities of the properties. The inspectors have a combined total of 700 years of experience evaluating properties.
2010 Top Diamond Ratings
Of the 58,000 inspections conducted nationally, 3.4 percent resulted in a Four Diamond rating. Five Diamond ratings accounted for only 0.28% of those inspections. The 165 AAA FIve Diamond Award winners include 113 lodgings and 52 restaurants in North America. Three hotels, The Broadmoor in Colorado, the Camelback Inn in Arizona and The Greenbrier in West Virginia have maintained Five Diamond Ratings for 34 consecutive years.