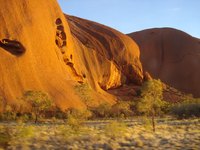 Known as the last frontier of Australia, the Outback covers 75 percent of the continent, and teems with flora and fauna. With its rich Aboriginal culture and remote locations, the Outback has become a destination for travelers throughout the world. Views of sand dunes and desert life are spectacular along with dramatic rock formations and shady gorges, offering each visitor the experience of a lifetime.
Geography
The Outback is divided up into territories that include Ayers Rock, Alice Springs, Palm Valley, King Canyon, West MacDonnell Ranges and The Olgas. Most tourists on self-driving tours will end up at one of these spots. Ayer's Rock is nicknamed the Capitol of the Outback for its iconic red rock formations. Alice Springs is in close proximity to Ayers Rock and is a common stopover for visitors.
The Highways
While traveling through the Outback, the best way is on the Stuart Highway which dissects the country with Alice Springs meeting halfway and Darwin and Adelaide on either end. The Victoria and Great Northern Highway take travelers along Australia's Northwest Territories all the way to the west coast. And for a nice long easy drive, the Eyre Highway goes right through the Nullarbor Desert between Perth on the west and Adelaide on the south.
Deserts
Several deserts are located in the Outback including Great Victoria Desert, Great Sandy Desert and Tanami Desert with Great Victoria the largest at 163,900 square miles. Most of the Outback is made up of desert, getting less than 500 mm of rain per year. Many unique animals make their homes on these lands and they adapt well to the harsh dry climate.
Animal Roaming
The wettest months of the year are from January through March which often causes flooding. In addition to weather hazards, the animals of the Outback have a lot of free grazing area and most cattle ranches are unfenced leaving these bovines to wander freely along the roads. Locals and visitors find more then cattle wandering around as this land is full of wildlife including kangaroos, donkeys, camels and wild horses. Drivers should beware after twilight as this is the time most of these animals will be roaming.
Wide Open Space
Inhabited by less than 60,000 people, and 2.5 million square miles the Outback doesn't really have an exact location, it is summed up as the wide open space in inland Australia. Though this is a barren land with most roads made of dirt, this is the place to get away from the hustle of city life and visit a land that has changed little over the centuries.