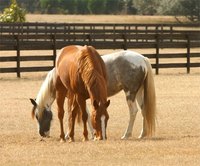 Horses are powerful and beautiful, but are also susceptible to dozens of different types of parasites. Of these parasites, red worms are considered to be the most dangerous. Large red worms are strongyles, small red worms are cyathastomes. These parasites can cause damage including diarrhea, weight loss, colic, internal bleeding, lameness and death if not kept in check. Frequent worming and veterinary checks can reduce the risks of severe red worm infection in your horses. Worming agents and frequent veterinary checks are the best way to prevent buildups.
Strongyles
During their larval phase, stongyles are migratory, moving through the intestinal arteries and into the abdomen for six months before they settle in the intestine and bowels. This migration can cause damage to the arterial walls, resulting in internal bleeding, lameness or death if untreated. Aneurysms, or bulging blood vessels caused by irritation, are the root cause of most of these afflictions as burst blood vessels and blood clots form. If a horse is acting sluggish or showing signs of injury, you should contact your veterinarian immediately.
Cyathastomes
All horses can be expected to have a small population of red worms or other parasites, however large populations can cause damage to your horses. Small red worms, if left unchecked, can cause anemia, weight loss, diarrhea and damage to the bowel lining. Trying to identify red worms through horse manure is unlikely to succeed as healthy adults rarely pass them with manure and dead ones are often too decomposed to identify. If you notice any of the warning signs of parasite infection, contact your veterinarian to prevent further damage to the animal and keep the parasite from spreading.

Treating for Red Worms
The best treatment for both small red worms and large red worms is modern worming agents used on a set regimen. Proper dosage for your animals is based on weight and age, and under-dosing can cause significant problems. If too little worming agent is used, infestations may continue and become resistant to a particular agent. For this reason it is advisable to switch worming agents every other year. There are five classes of dewormers: Ivermectin, Moxidectin, Pyrantel Ebonate, Benzimidazoles and Praziquantel. Of these agents, all five are known to kill red worms of both types, but small red worms may be resistant to Pyrantel Ebonate in some areas.
Non-Chemical Treatment
Aside from veterinary checks and worming agents, there are some natural and safe steps you can take to keep the red worm count low in your horses. First, you should remove manure from graze lands daily and compost it in a covered pit as heat from the composting will kill larvae and eggs. Mowing and tilling graze fields exposes eggs, decreasing survival chances. Limiting the number of horses per pasture and rotating graze fields as often as possible will also limit your parasite infection rate.
Summary
Both strongyles and cyathastomes are red worms, parasites that can cause significant damage to horses if left unchecked. Frequent worming and veterinary checks are the most effective ways to stop red worm populations from getting to dangerous levels. Overpopulating graze fields can increase infection rates and leaving manure in graze fields unchecked can lead to rapid increases in red worm population. While there are other horse parasites, you should always be on the lookout for red worms, as they are voracious blood suckers that can severely damage or kill your horses.