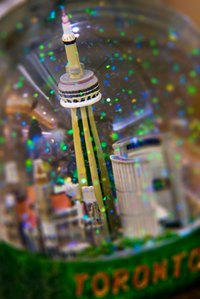 Toronto is Canada's largest city, home to over 5 million people. Like many cities, Toronto is also home to many pets and companion animals. While most people think of dogs, cats, hamsters or goldfish as pets, others are drawn toward keeping exotic animals as pets because of their unique traits and unusual features. Before acquiring an exotic pet, ensure you are aware of the regulations and bylaws that apply to their ownership and care.
Reasons for Regulation
While keeping an exotic pet might seem like a great idea, history has shown that many animals simply are not appropriate for city living. The Toronto Wildlife Centre points out that domestic animals have had their wild instincts bred out of them over centuries of living alongside humans. Wild animals, on the other hand, maintain many of their instincts even when raised by humans. This can make them unpredictable and possibly dangerous. Another reason for regulation is the danger of introducing a new, invasive species to a fragile ecosystem. Finally, many people feel exotic pets need to be regulated to protect the pet itself, ensuring the pet can live a safe and humane life.
Municipal Bylaw
The City of Toronto regulates the treatment and captivity of animals as part of a sweeping section of the city's bylaws. Section 349 of the Municipal Code outlines the responsibilities every citizen must uphold when considering pets or wild animals. While much of the Municipal Code concerns traditional pets such as cats and dogs, Article 2 clearly states that "No person shall keep, either on a temporary or permanent basis, any prohibited animal in the City."
Prohibited Animals
Schedule A of Section 349 outlines a list of the animals that are prohibited. This list uses the scientific taxonomy classifications to distinguish between pets and other animals. For example, all non-human primates are banned, such as chimpanzees, gorillas, monkeys and lemurs. Similarly, all marsupials such as kangaroos, opossums and wallabies are prohibited from the city. When it comes to reptiles, all crocodiles are banned, as are lizards over 2 meters in length and snakes over 3 meters in length. For a complete list of prohibited animals, refer to Schedule A (see References).
Exceptions
The Municipal Code outlines a number of purposes that would allow prohibited animals to be kept within the city without violating the bylaw. The first of these relates to the age of the animal. If an animal has resided in the city prior to being listed as a prohibited animal, it is permitted to be kept for its natural life. Similarly, animals that are used for film or television can obtain an exception. Finally, animals that are used for educational programs are allowed to reside in the city. Certain terms apply to each exemption, and it is the responsibility of the owner to determine if his animal qualifies.
Enforcement and Fines
The penalties for violating the Municipal Code in relation to keeping a prohibited animal are quite severe. If a City of Toronto Bylaw Enforcement Officer discovers a prohibited animal, she is permitted to immediately impound the animal and a fine of up to $5,000 will be issued to the owner. The animal will undergo a review by City of Toronto Animal Services to determine its fate, including a possible relocation to a wildlife center or euthanizing.