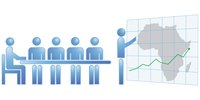 In October 2008, the European Union (EU) signed an agreement with 79 African, Caribbean and Pacific (ACP) states to set up a new framework for trade between the two groups of countries. The resulting economic partnership agreement (EPA) , it was designed to help alleviate poverty in ACP nations by promoting economic growth.
History
In 1975, the European community and ACP nations entered into a trade pact known as Loma 1, which established that ACP countries would be given preferential access to European markets--but allowed ACP countries to limit European imports. According to the European Commission, however, the agreement did not work as intended. In 1976, ACP imports accounted for only 6.7 percent of the European market; by 1999, they dropped to 2.8 percent.
Trade and the WTO
When Loma 1 was signed, international trade was regulated by the General Agreement on Tariffs and Trade (GATT). Loma's preferential treatment of ACP nations was in violation of GATT, but received a waiver that allowed the agreement to go forward. GATT was eventually replace by the World Trade Organization (WTO) in 1995. Under WTO rules, Loma 1 was illegal: EU nations could not pick and choose which countries were granted trading preferences.
New Framework
The new EU-ACP EPAs were negotiated with the aim of allowing European countries some access to ACP markets, and to expand trading privileges to more developing nations. EPA negotiators also sought to establish guidelines that would promote meaningful economic growth to the people of ACP nations, which Loma 1 had failed to do.
Concerns
As of 2010, the EPAs continue to provoke controversy in ACP nations, as people fear that opening up their markets to European competition puts them on an unequal playing field. Their banking systems are less developed and their economies are not as strong. In addition, many ACP countries struggle with health crises and political instability.
Benefits
Proponents of the EPAs point out that ACP manufacturers will now have access to better, cheaper raw materials flowing in from the European market. The EU also committed to help ACP nations combat climate change, promote political stability and build regional markets. The EPAs provide for trade development initiatives, which include infrastructure investment and help with regulating the financial sector and implementing trade agreements.