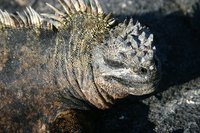 The Galapagos Islands feature unique wildlife and plant life that first drew the attention of naturalist Charles Darwin in the 1830s and continue to serve as important subjects for biologists and other scientists. The Galapagos Islands have native reptiles, mammals, birds and plant life that have developed specific characteristics not found anywhere else in the world.
Location
The Galapagos Islands are located off the coast of Ecuador in the south Pacific Ocean. The Galapagos encompasses 16 islands and numerous islets in an area of 36,000 square miles. Each major island has a volcano, and the Galapagos Islands are among the Earth's most active oceanic volcano areas.
Reptiles
There are five species of reptile native to the Galapagos Islands--the giant tortoise, green sea turtle, marine iguana, land iguana and lava lizard. The giant tortoise and marine iguana are two of the islands' more unique animals. The giant tortoise, also called the Galapagos tortoise, can weigh more than 600 lbs., reach 4 feet in length and live as long as 150 years. The Galapagos marine iguanas are the only lizards in the world that live in the water. They reach lengths of more than 5.5 feet and feed on seaweed; large adults can dive nearly 50 feet.
Mammals
Like most isolated islands, there are not many mammals on the Galapagos--merely a small handful of species that were able to find their way to the islands. The Galapagos sea lions and fur seals were able to swim to the islands; the red bats and hoary bats that call the Galapagos home were able to fly there; and scientists speculate that the rice rats arrived on floating vegetation.
Birds
Six types of birds are native to the Galapagos Islands. The cormorants found here are the only species in the world that don't fly. Galapagos penguins are the only ones found in warm equatorial waters. The waved albatross, booby and frigatebird also call the Galapagos Islands home, as do 13 species of finches, which are often called Darwin's finches, owing to the observations Charles Darwin made of the birds while on the Galapagos Islands.
Plants
With coastal, arid and humid climate zones, the Galapagos Islands are home to a wide variety of vegetation. Among the plants that grow on the islands are black, red, button and white mangrove trees, morning glory vines, candelabra, lava and prickly pear cacti, cutleaf daisies, bracken ferns, palo verdes, scalesias and miconias.