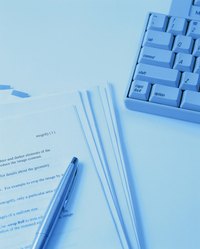 Pricing strategies refer to the choices a business makes in setting prices for its products or services. Effective pricing strategies set a price that will attract customers while generating profit. A business factors into the pricing strategy the costs to generate products, provide services and pay for basic costs of doing business, commonly called "overhead."
Basic competition
Businesses compete primarily in terms of price: a business that offers a product at the lowest price will attract more customers. While pricing always influences competition in this way, particular pricing strategies will influence market behavior more than other strategies.
Market pricing
Market pricing is a strategy that requires a business to examine all the prices set by the competition, along with any discounts they offer, in order to decide their own price. Businesses with market pricing strategies are most easily influenced by competitor decisions. When all businesses in an industry use market pricing techniques, prices can fluctuate rapidly.
Penetration pricing
When a business first offers a product or service to consumers, it often will use penetration pricing. The business offers a product at an extremely low price, often losing money on sales in order to attract customers from competitors.The price is raised back up to profitable levels, eventually, after interest in the product is generated and a customer base is established.
Cost plus pricing
Cost plus pricing is when a businesses figures out the overhead cost for each product, then marks-up the price by 20 to 50 percent. The mark-up is based mainly on factors within the company and minimally uninfluenced by competitor prices. Businesses that use cost plus pricing often avoid pricing wars with competitors and create a more stable market.
Value-added strategies
Value-added strategies create products with extra features that offer exceptional customer service so that consumers will be willing to pay more for what they see as extra value. Businesses will create value-add products when they want to attract customers from competitors when market price is equally matched or the price is too high to match.