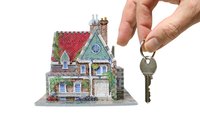 After a mortgage closes, there's a good chance it will be sold by the underwriting lender to another lender. It is not uncommon to receive notices stating that within a few months time a new lender will take over a loan and payments going forward must be sent to a new address. Understanding why this occurs will help ease confusion and gain understanding about this commonly hidden aspect of the mortgage industry.
Secondary Market
After a mortgage closes, a mortgage lender will typically bundle similar types of mortgages to be sold in the secondary market to larger lenders or entities who will take over the servicing part of the loan. According to the U.S. Securities and Exchange Commission (SEC), secondary market investors include large entities such as the Federal National Mortgage Association (Fannie Mae), the Federal Home Loan and Mortgage Corporation (Freddie Mac), pension funds, insurance companies, securities dealers, and other financial institutions.
Mortgage Backed Securities
Once mortgage pools have been sold to larger entities, mortgage-backed securities may be issued to generate additional revenues for the issuers. According to the SEC, "Mortgage-backed securities (MBS) are debt obligations that represent claims to the cash flows from pools of mortgage loans." The SEC also states that some securities issued by governmental or quasi-governmental agencies are backed by the U.S. Government or allow borrowing from the U.S. Treasury. Private institutions, such as brokerage firms, banks, and homebuilders, also securitize mortgages, known as "private-label" mortgage securities.
Freeing Up Funds
Mortgage lenders sell the mortgages they've closed to get back the money lent out, so they can continue the cycle and make new mortgages. According to Mortgageprofessor.com, "Mortgage bankers need very little capital because they have excellent collateral (i.e., the real estate secured by the mortgages) to secure the short-term loans they need to operate." Because of this small pool of capital, originating lenders need to get loans off their books in order to make new deals.
Correspondent Lending
Some lenders, known as correspondent lenders, only originate mortgage business with the full intention of eventually selling the loans to a bigger lender. These businesses make money when they originate mortgages, and also when they sell the mortgages, by charging a commission. Bigger lenders will be happy to purchase the loans in return for borrowers making regular payments and providing a regular revenue stream in the form of monthly mortgage interest payments.
Impact on Mortgagees
Borrowers usually are notified a month or two in advance when their mortgage servicer is changing. A letter will be sent along with the transition date when the handoff between old mortgage lender to new mortgage lender will take effect, as well as the new lender's payment address. During the transition period, if a mortgage payment is made to the old lender by mistake, the payment will still be processed by the old lender. Also, during this transitional period, lenders are usually unable to report any mortgage delinquencies as a result of the mortgage handoff.