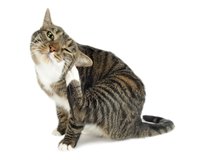 Although cat fleas, or Ctenocephalides felis, do not select humans as hosts, they will bite you and your family if you handle an infected cat. If your cat has fleas, promptly begin treatment to get rid of the fleas and relieve the itching and discomfort caused by the bites.
Flea Allergy Treatment
In many cats, having fleas is a minor irritation that results in minimal itching. However, some cats develop an allergy to fleas, or flea allergy dermatitis. In these cases, even a single flea bite can result in extreme itching that causes your cat to lick and chew. Cats may lose hair and develop open sores that become infected.
Your cat's grooming habits may mean that you never see a flea on your cat. However, if your cat develops symptoms, consult a veterinarian. Corticosteroids are often prescribed to provide relief for the itching and irritation. In some cases, your vet also might prescribe an antihistamine.
Your vet also may recommend a series of injections of flea saliva extract to retrain your cat's immune system and prevent future flea allergies.
Flea Prevention and Treatment
Use regular flea preventive and treatment measures on your cat. Topical medications are available that you can apply once per month to prevent fleas. Choose a product designed for cats, such as Advantage II, which kills adult fleas and larvae. Other preventives, such as Program, are available as an injection or food additive. Flea products for dogs may be toxic to cats and should not be used. Bathing your cat with a flea shampoo will help get rid of a flea infestation, but will not prevent fleas in the long term.
To remove fleas from your home, vacuum frequently to remove fleas from the carpet and wash bedding. Spray an insecticide designed for fleas throughout the house to kill live fleas. Insecticides for the home are also available as carpet powders and foggers. Remove your pets while you are using foggers or sprays.
You also can use natural options such as diatomaceous earth, a powder made of algae fossils. Sprinkle the powder into the carpet and leave it for several hours before vacuuming. Diatomaceous earth can be harmful if inhaled. Borax and table salt also may be used as carpet powders to help get rid of fleas.
Tapeworm Infections
Cat fleas may be carriers of the dog tapeworm that can infect cats, dogs and humans. Pets are infected when they ingest the fleas during grooming. If you see signs of worms in your pets feces or bedding, consult a veterinarian. Your vet will prescribe a treatment for tapeworms that comes as a pill or injection. Rarely, children and people may ingest fleas and become infected.
Cat Fleas and Your Family
Cat fleas may bite the humans in your home as they come into contact with an infested cat. Flea bites cause small, red bumps and itching. Relieve itching by applying a 1 percent hydrocortisone cream to the bites or take an antihistamine to relieve itching.