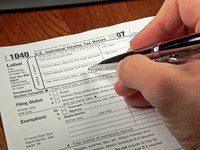 A real estate salesperson enjoys the flexibility and earning potential of a self-employed business owner along with the advantage of working for a broker who may offer benefits a small business person may not be able to afford. While a broker may offer bulk discounts on advertising, in-house training and administrative support, tax considerations apply to a real estate salesperson that do not apply to someone working as an employee in a traditional job.
Independent Contractor
The Internal Revenue Service classifies a real estate salesperson as an independent contractor because the employing broker does not control the activities or hours of employment, provide reimbursement for expenses, pay an hourly wage, or offer employee benefits, such as paid vacations and pension plans.
At the end of the fiscal year, a broker issues a 1099-Misc form to the real estate salesperson reporting the commission paid for the year. The commission may be a net income after the brokerage fees. However, for income tax purposes, IRS.gov considers any income reported on a 1099-Misc form as a gross figure unless the person or establishment reporting the income has withheld taxes.
Itemized Income and Expenses
The tax benefits of being a real estate salesperson include an itemized deduction of yearly expenses on a Schedule C form.
Some allowable deductions include costs of advertising, such as classified ads, billboards, newsletters, direct mail, and open house flyers; professional fees including dues to the National Association of Realtors; education, such as continuing education to renew a license; automobile expenses, office supplies and equipment; and meals and entertainment, such as dinner for clients who are relocating to the area.

Estimated Taxes
Because the employing broker does not deduct federal or state taxes, a real estate salesperson must pay quarterly taxes to avoid a tax penalty, according to IRS.gov. Quarterly taxes are due on April 15, June 15, September 15 and January 15 of each year.
Quarterly taxes are an estimate of the taxes owed based on a percentage of the gross income minus expenses. Check with an accountant, tax preparer or the IRS to determine the current tax rate to accurately calculate estimated taxes. A penalty may apply for underpayment, non-payment or late payment of estimated taxes.

State Taxes
Real estate salespersons living in states requiring income tax filing must comply with the rules and regulations for their state. Check with the state for information on quarterly estimated taxes and yearly filings.

Losses
A real estate salesperson may spend much more than the commission earned during the tax year. A loss may be filed with the IRS and the state in which the real estate salesperson resides to offset the taxes owed. If estimated taxes were paid, all or a portion of those taxes may be refunded. Check with an accountant, tax preparer or the IRS on how to report a loss.