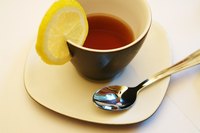 The University of California, San Diego says that nasal congestion is the result of either a nasal deformity or inflamed sinuses. Common congestion problems involve a runny nose, the inability to breathe and sinus pressure, but in some cases congestion may lead to swallowing problems. If you are having difficulty swallowing you should seek medical attention. Do not attempt to self-treat or diagnose yourself without seeing a doctor.
Facts
Inflamed sinuses create obstruction throughout the sinus cavity. This leads to a backup of mucus and causes post nasal drip. Post-nasal drip is a condition where phlegm constantly drips in the back of the throat. The mucus is thick and difficult to swallow, causing you to cough or develop a sore throat.
Causes
Nasal congestion is the result of a sinus infection, seasonal allergies or the common cold and should be treated based on the cause of the congestion. A sinus infection occurs when bacteria or a virus affect the sinuses. Most acute sinus infections clear up on their own within a few days, according to the Mayo Clinic. If the sinus infection is the result of bacteria, your doctor may treat it with an antibiotic. If you have seasonal allergies, it is a good idea to stay indoors and avoid allergens. There is no cure for the common cold. If the congestion causing swallowing problems is from a cold, talk to your doctor about using over-the-counter medications to treat the symptoms.
Prevention
The best way to prevent congestion causing swallowing problems is to address minor congestion at the onset. Use over-the-counter decongestants to reduce swelling in the sinuses, antihistamines to prevent allergies and practice good hygiene (hand washing and proper sleep) to prevent the common cold.
Treatment
Drinking hot, herbal teas may help reduce the amount of congestion in the throat. The hot liquid will help make the nasal discharge thinner, allowing it drain easier. Increasing the amount of liquid you drink in a day will also help to thin the mucus and provide relief. Use nasal irrigation to keep the sinus cavity free of allergens and excess mucus. Nasal irrigation uses a saline solution to cleanse and moisten sinuses. The most common nasal irrigation system is a neti pot and may be used daily for prevention and treatment of most sinus issues.
Complications
Congestion causing swallowing problems may lead to vomiting due to the excess mucus in the throat and stomach. It may also lead to a throat or lung infection. If you experience pain or develop a fever, seek medical advice. If you experience difficulty breathing or swallowing food, you should go to the emergency room or call 911.