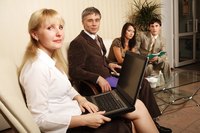 Corporate or organizational culture, as defined by BusinessDictionary.com, is the tacit code that gives the "feel" of a company, determines ethics and priorities and how the company responds to change.
Corporate culture manifests in management style, or the way the company conducts business and treats its employees; the degree of freedom and innovation allowed employees; and the degree of transparency from leadership to employees. Pervasive in company environments, corporate culture is difficult to change.
Competing Values Framework
The Competing Values Framework, according to American Jewish University (AJU), is a way for companies to determine their corporate culture. The four dimensions in the framework are Internal Focus and Integration, Flexibility and Discretion, External Focus and Differentiation, and Stability and Control. The grid is then divided into four quadrants, each representing a culture type: Clan, Adhocracy, Hierarchy and Market.
A six-question questionnaire helps companies determine where they fall in the grid and which culture best represents theirs.
The Clan Culture
A clan culture is characterized by a sense of inclusion, individuality and shared values and goals over structure and hierarchy. Teamwork and flexibility are highly valued. Clan culture is like an extended family, according to Purdue University, College of Technology (Purdue Tech) and is successful in a stable environment, where the same service can be provided repeatedly.
A clan culture would most likely have a permissive management style, in which leadership invites employees to be active in decision-making and allows freedom and independence in their everyday duties, says Rensselaer Polytechnic Institute (RPI).

The Adhocracy Culture
An adhocracy culture values innovation, creativity, entrepreneurship and flexibility, says AJU. This type of culture is most successful in a dynamic environment that relies on risk-taking and responding to change quickly, such as technology and film-making.
Effective management would be more on the permissive side and would transform the stress that often accompanies uncertainty into excitement and creativity.

The Hierarchy Culture
A hierarchy culture values efficiency, reliability, stability and internal focus, according to AJU. Employees have little autonomy and must follow set processes, policies and procedures. Companies with hierarchy cultures usually have a stable product offering and operate within a complex set of rules that has eliminated the need for employees' creativity and input.
Management style in a hierarchy culture is more autocratic, in which leadership makes all decisions, according to RPI, than in other cultures, or directive democratic, in which leadership makes decisions with some employee input but supervises employees closely.

The Market Culture
Companies with a market culture are primarily focused outward, says AJU, and on transactions with suppliers, customers and regulators rather than internal stakeholders. Primary objectives are financial results, creating market niches and securing customer bases. These companies encourage a competitive atmosphere.
The management style for such a culture would probably fall between directive democratic – participative decision-making with closely supervised employees – and permissive democratic, participative decision-making and granting employees latitude in completing their work successfully, according to RPI.