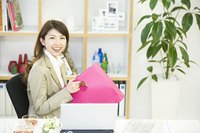 Small-business owners face the same ethical challenges as larger businesses, even though it might not always seem true. For example, giving gifts to clients is good business, but it can be difficult to know where to draw the line. For this reason, it's vital to include gift-giving -- and gift-receiving -- guidelines in a business ethics policy.
Gift-Giving Versus Bribery
Gifts pose an ethical dilemma for businesses, because although gifts can play a role in maintaining good relationships, they can also amount to bribery. For example, offering to pay for a business lunch or giving promotional items such as cups or pens as gifts facilitate relationships and are good business practices. On the other hand, giving a potential client an all-expenses paid weekend pass to an exclusive golf course could be construed as bribery.
Gift-Giving Ethics
The timing of a gift, its value and underlying expectations are factors that separate ethical from unethical gift-giving. For example, gifts of a nominal predetermined value given to clients during the holiday season or to a contractor as a thank you for meeting an important deadline are both acceptable and ethical. However, a gift often isn't really a gift when it's a high-value item, when it comes with -- or appears to come with -- strings attached or when the timing of a gift coincides with a contract award or pending but sill unconfirmed sale.
Corporate Ethics Policy
One way to avoid ethical concerns involving gifts is to prohibit employees from giving or receiving gifts. However, the value of ethical gift-giving makes a modified policy appropriate for most businesses. For example, you can include gifts in the annual budget and provide employees with a list of acceptable gifts. You also can require employees to get department approval before accepting a gift from a customer or vendor.