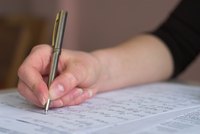 Performance management is an important part of business operations because it helps companies establish excellence in the workplace by monitoring the performance and productivity of the workforce. Employee satisfaction surveys are essential to performance management in that they uncover information about the health of an organization and ways to improve it. Since the people of an organization are instrumental in carrying out a company's mission, employers want to be sure that employees are satisfied at work.
Significance
Ensuring the satisfaction of employees is essential to maintaining a healthy organization. According to an August 2009 article in The Times, when employees are happy with their jobs and satisfied with their companies, they will want to produce more and perform better, and are loyal to their employers. As such, employers use satisfaction surveys to gauge their employees' perceptions of their jobs. Surveys allow employers to know what's going on so that they can minimize unpredictable behaviors, such as employees abruptly quitting. Employee satisfaction surveys keep companies on the right track so that they can appropriately respond to workplace concerns.
Morale
Low morale is bad for business. If companies want to retain their employees and uphold a productive workforce, managers must understand what the attitudes and motivation of the organizational culture are. According to a 1994 article in BNET, low morale leads to low productivity and absenteeism, and even increases turnover. By providing employees with satisfaction surveys, employers will be able to tell if low morale is plaguing the work environment and affecting the office culture. Companies want to avoid and minimize low morale before it negatively impacts the organization. Developing employee satisfaction surveys is a useful way to identify potential morale concerns and come up with ways to improve office conditions.
Feedback
When a company surveys employees to measure their satisfaction at work, they are uncovering the organization's strengths and weaknesses. Surveying employees lets employers get constructive (and sometimes destructive) feedback on things like training, seminars, policies, processes, office conditions and managers. Since satisfaction surveys are anonymous, employees are inclined to be honest. This helps employers make organizational improvements.
Feeling Valued
Surveying employees is a form of communication between employees and managers, so the surveying process can strengthen employee and managerial relations. By asking employees for their input on a survey, employees will feel like their feelings and ideas are being valued. This sense of value and appreciation, in turn, may boost employee morale because it lets employees know that they matter to the company.
Considerations
Just because employees put something down on a satisfaction survey does not guarantee that things in the office will change. Surveying is not the same as voting, and it usually is not a "majority rules" situation. Companies should, however, take the information from the surveys into consideration, and try to come up with feasible ways to keep morale up.