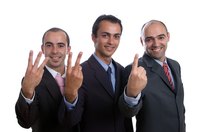 Organizations can implement a variety of practices to encourage the development of positive attitudes in personnel. Most of the recommended methods for promoting positive employee attitudes involve simple practices. However, a key aspect of bolstering positive employee attitude involves the influence of managers and thus necessitates manager buy-in to an organization's implementation of such a program.
Set Example
The most essential aspect of organizational encouragement of a positive attitude among personnel involves manager example. Employees who work under managers whose personal presentation is even implicitly negative have less likelihood of maintaining positive attitudes themselves. Such typical, daily, habits as a manager frequently starting sentences with "no," or, alternatively, initiating commentary with "Yes, but . . . " have a discouraging effect on positive employee attitude, as described at the University of Tennessee at Martin (UTM) website. A roll-down effect would suggest that, therefore, the best thing an organization can do to promote positive employee attitudes is to insist on positive behavioral examples from management personnel, starting at the highest levels of the organization.
Mentality
Employee mentality influences the probability of positive employee attitude, and the organization can promote positive attitudes among employees by teaching them behaviors that support a positive attitude. Such behaviors include replacing negative mental programming with positive self-talk or the employee thinking of herself as already behaving in a an area she wants to improve, such as organization. Other mental attitudes that promote an overall positive attitude in employees include thinking in terms of cooperation, innovation and creativity versus the win-lose model; and giving full attention to the moment or "living in the now".
Whining/Drama
An important action that an organization can take, typically through its management, to promote positivity in the workplace is to eliminate whining. Management needs to step in and stop this behavior at the source because one employee who engages in whining behavior negatively influences the entire workgroup.
Stress Management
Another effective way for an organization to promote positive personnel attitudes is to teach and encourage the use of stress management techniques among employees. People today live in a state of chronic stress. When employees encounter conduct that reduces stress levels they should be encouraged to continue the successful behavior, which will promote an overall positive attitude among personnel.
Recognize the Good
Recognizing the workplace good that does exist also can gain the organization considerable mileage in terms of promoting positive attitudes among employees. For example, the UTM website suggests that management start a list of the best 10 things about the workplace. This not only helps employees recognize existing good things about their employing organization, but it encourages employees to work toward more of the good things about the organization. Such efforts to focus on the good serve to promote positive attitude in employees.